NEWYou can now listen to Fox News articles!
When California Democrat Gov. Gavin Newsom, admitted that clean-up efforts in San Francisco this week were a consequence of "fancy leaders coming into town," he did more than say the quiet part out loud. Newsom showed the true winner of his policy goals, and it's not the 40 million Californians or citizens in the country he harbors ambitions of leading as president.  It's Xi Jinping, president of the People's Republic of China, who sat down with President Joe Biden at Wednesday's highly anticipated Asia-Pacific Economic Cooperation meeting.
Whether intended or not, from the Biden White House and trickling downward to like-minded governors, anti-competitive decisions from left-wing politicians are kneecapping American innovators and supercharging Chinese ambitions in their quest for global dominance.
SAN FRANCISCO BUSINESS OWNER ROASTS NEWSOM FOR CLEANING UP CITY FOR WORLD LEADERS: 'HE DOESN'T CARE' ABOUT US
Take the tech sector. This fall alone, departments within the Biden administration are pursuing high-profile lawsuits against Google and Amazon, two of America's home-grown success stories. Newsom has signed legislation targeting both companies, despite California's role as the incubator of technology that changed the world.
Should the government prevail, the result could be the break-up of Amazon or Google. The Amazon case is being led by Lina Khan, an Elizabeth Warren protege and chair of the Federal Trade Commission (FTC), who rose to prominence with an academic paper targeting the online marketplace.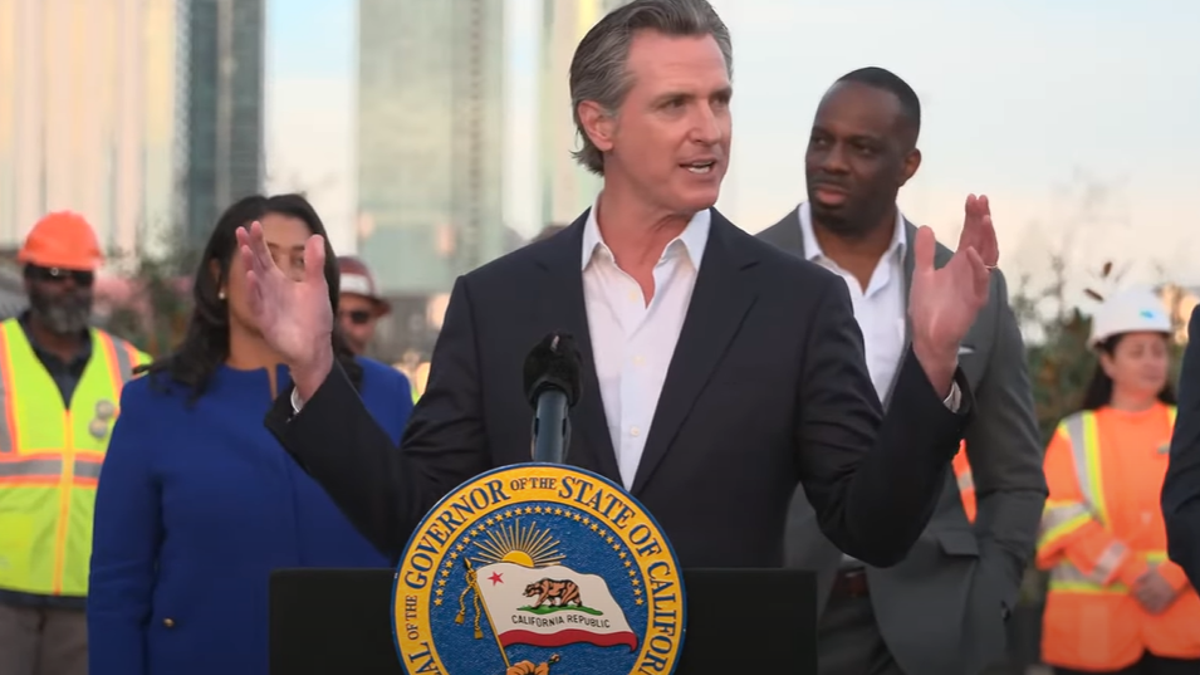 Meanwhile, the Chinese tech industry is exploding. Earlier this year, four of the five most downloaded apps in the United States were Chinese-based. TikTok grabs the most headlines, but Temu, an online marketplace and rival to Amazon, emerged as the most downloaded app in the U.S. earlier this year.
Temu has faced bipartisan congressional scrutiny, with the U.S. House Select Committee on the Chinese Communist Party issuing a scathing report earlier this year concluding the company relied on slave labor for production on a "regular basis." Temu, along with Shein, another popular Chinese app that focuses on fashion apparel, have faced allegations of producing goods in Xinjiang, the west region where Chinese authorities have overseen brutal crackdowns on Uyghur Muslims. 
THE MOUNTING EVIDENCE BIDEN GOT RICH FROM DICTATORS LIKE CHINA'S XI
Yet with its bargain basement prices on cheap goods, Temu's presence grew tenfold during its first few months in the U.S. Last November, Shein accounted for half of all American sales among fast fashion competitors. Their respective market shares are poised to grow as companies like Amazon face existential threats from its own government. 
Or consider energy. Green extremists like Biden and Newsom have made their disdain for American oil and gas abundantly clear. Earlier in his term, the Biden administration had issued the fewest federal oil leases since World War Two, while Newsom signed a law forcing all new cars to be electric in his state by 2035. 
Here's the problem: mass-scale production of EVs requires lithium-ion for the batteries. China dominates the market for minerals that make up EV batteries, especially the lithium-ion battery.  In 2021, China produced 75 percent of the world's lithium-ion batteries, compared with 7 percent for the U.S., according to the International Energy Agency.
CLICK HERE FOR MORE FOX NEWS OPINION
More than 75 percent of the world's cobalt, another critical component for EVs, comes from Democratic Republic of the Congo (DRC), where China exerts control and again relies on slave labor.
The Biden-Xi sit-down this week is not likely to yield long-term policy consequences, but it's no mystery that Beijing already considers itself an equal of the U.S. At the recent Central Financial Work Conference, they announced plans to "accelerate building a financial powerhouse." 
The question should be why our elected officials are making it easier to achieve that objective. From spy balloons to breaching the email accounts of cabinet officials to siding with Russia in their war against Ukraine: Xi Jinping and the Chinese Communist Party should be seen as detrimental to the interests of the United States. 
To be sure, this is not to suggest that Biden, Newsom or any other politician is purposefully undermining American interests to boost our greatest rival. But it is undeniable that their policies are having that effect. 
CLICK HERE TO GET THE FOX NEWS APP
Yes, it is infuriating that it took a visit from Xi for Newsom to lift a finger to clean up California. The New York Times described San Francisco as having, "the air this week of teenagers frantically cleaning up after a house party with their parents on the way home." After months of inaction, the open-air drug markets, filth and homeless encampments vanished overnight. 
After the circus around this week's meeting leaves town, the real anger should be directed at liberal policy agendas that are forcing American innovators to take a backseat to their Chinese competitors, and the long-term implications for our citizens.
CLICK HERE TO READ MORE FROM SCOTT BROWN