NEWYou can now listen to Fox News articles!
Ask people why they're leaving blue states like California, and they'll give you a lot of answers: more freedom, a lower cost of living, a more family-friendly quality of life. 
But a lot of them are just tired. Tired of the lockdowns, tired of the crime, tired of the preening politicians who won't do anything to address the real issues they're facing.
As governor of Arkansas, I've had my chance to ask that question a lot of times. That's because our state has received a steady influx of new residents for years. Today, there are thousands of California refugees – and thousands more from other states – in our state.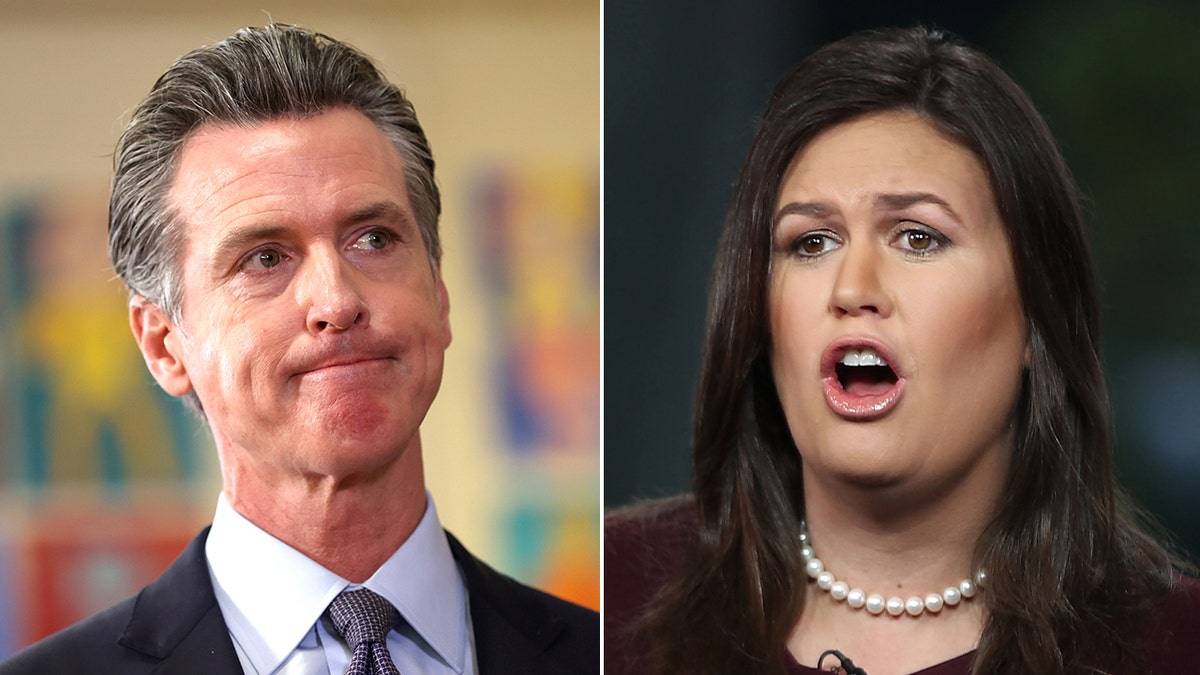 This year alone, about 32,000 new people moved to Arkansas, about 10% of them from California. Arkansas is now one of the top five states for inbound migration. And the flow isn't slowing down anytime soon.
SARAH SANDERS WADES INTO 'CRUCIAL' KENTUCKY GOVERNOR RACE AS REPUBLICANS LOOK TO FLIP SECOND SEAT FROM DEMS
That's because my administration is focused on the reforms that will make Arkansas the best state in the country to live, work and raise a family. 
Just in my first few months in office, we passed the boldest education reforms in the country, including universal school choice, cut taxes not once, but twice, and are making historic investments in outdoor recreation. We're cracking down on crime, getting woke nonsense out of our schools, and keeping kids safe online.
I think these changes will be the icing on the cake for those who are already looking at how good we have it in Arkansas. Take our cost of living, for example. It's nearly 40% cheaper to live in Little Rock than in Los Angeles. Housing is about 60% less expensive; health care is 15% cheaper.
Imagine a family struggling to eke it out in California. For $500,000 – no small sum – they could afford a tiny fixer-upper in East LA. With that money in Little Rock, you could get a modern, 4,000-square-foot, custom-built home in one of our best neighborhoods.
SARAH HUCKABEE SANDERS TO SIGN EXECUTIVE ORDER ELIMINATING 'WOKE, ANTI-WOMEN WORDS' FROM STATE GOVERNMENT USE
Taxes are another way we beat our coastal competition. Already this year, we cut the top individual income tax rate twice and built the groundwork to phase out the state income tax entirely. Our tax rate is about a third of that in California and going down.
We're able to slash taxes so heavily because our economy is booming, creating billion-dollar surpluses. As taxes continue to fall, our economy will continue to rise – the opposite of the Left Coast's downward spiral.
 But moving to Arkansas isn't just a pocketbook decision – it's about quality of life as well.
As 48 million people discovered for themselves in 2022, Arkansas is, for good reason, the Natural State. From world-class duck hunting to fly-fishing, there are outdoor adventures for everyone – many of which are located just minutes from our urban centers.
ARKANSAS HIGH COURT SIDES WITH GOV. SANDERS, STATE LAWMAKERS IN EDUCATION OVERHAUL CASES
Arkansas' 52 state parks are free to residents and visitors alike and offer a host of outdoor opportunities right at your doorstep. Four of Arkansas' state parks – Mount Nebo State Park, Hobbs State Park, Pinnacle Mountain State Park, and Devil's Den State Park – host a collection of world-class mountain biking trails known as the Monument Trails that Outside Magazine just named the best in America.
Arkansas is God's country. I firmly believe that you haven't lived until you float the clear, free-flowing waters of the Buffalo River through the Ozark Mountains or watch a sunrise on a duck hunt in flooded timber. 
Arkansas is also the land of opportunity, where Sam Walton grew a little five-and-dime store into the most successful business on the face of the earth.
CLICK HERE FOR MORE FOX NEWS OPINION
Arkansas is the home of legends like Al Green and Johnny Cash who pioneered a new American sound. It's where Daisy Bates and the Little Rock Nine struck a blow against racism and blazed a trail for civil rights. 
Arkansas is my home, and we'd love to welcome you here too, as a tourist, as an investor, and even as our newest neighbor. Come and see what we have to offer. I promise you won't regret it.
CLICK HERE TO GET THE FOX NEWS APP