NEWYou can now listen to Fox News articles!
As a Jewish girl growing up in the United States, I did not truly understand how the world stood by and watched as the Nazis exterminated six million Jews during World War II.
Long Island, where I'm from, is home to one of America's largest Jewish populations, and I always felt comfortable displaying my Jewish identity with pride, never feeling any need to hide who I was.
That all changed on Oct. 7. While in Israel for a wedding, I joined a group of friends of mine attending the Nova music festival near Kibbutz Re'im. The unfathomable horrors I experienced that terrible morning have transformed me indelibly forever.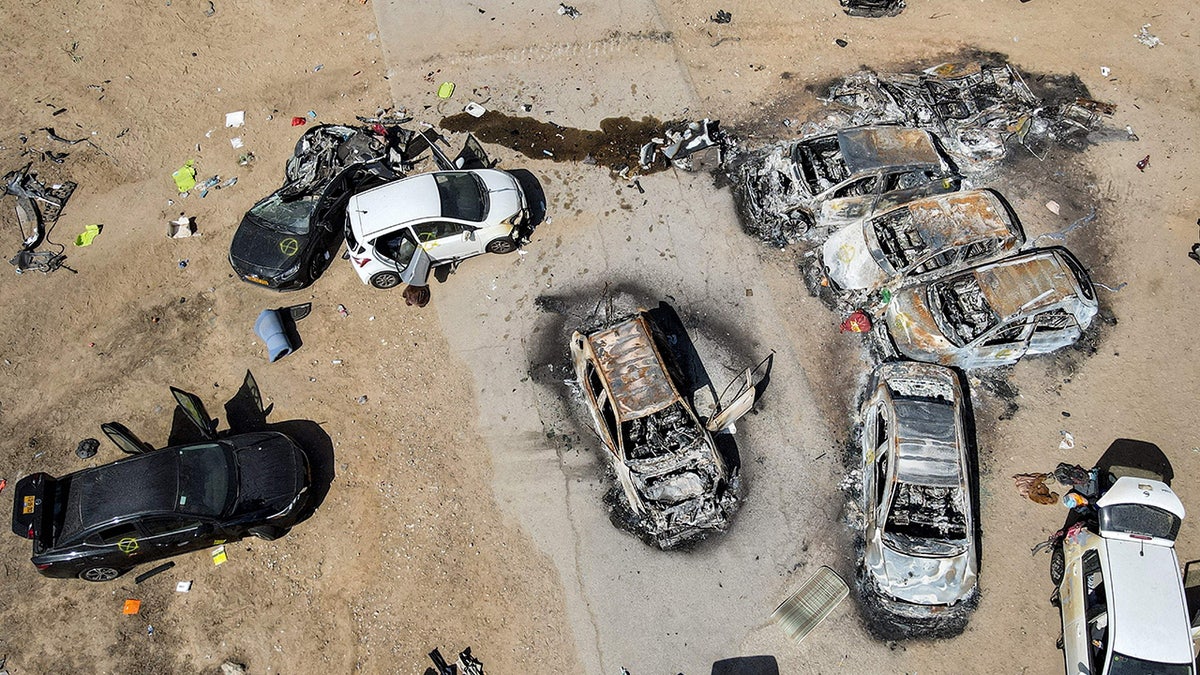 For hours, I ran for my life, evading Hamas gunmen and not knowing at any given moment which direction meant death and which salvation. I survived the worst attack against the Jewish people since the Holocaust out of pure luck and circumstance.
ISRAELI MUSIC FESTIVAL SURVIVOR DESCRIBES HORROR OF HAMAS-LED ATTACK THAT LEFT 260 DEAD
Tragically, more than 260 of my fellow Nova revelers were less fortunate, losing their lives that day in brutally violent ways. Numerous others were seized and taken to Gaza as hostages, and I cannot imagine what they are enduring in captivity.
My life is now divided into two, permanently. I will never be the same person after what I saw and felt on Oct. 7. 
I can longer simply enjoy the comforts of suburban life as a young Jewish woman in Long Island, and I now more fully comprehend the damning indifference of the world to Jewish suffering, from ancient to contemporary times.
This is why, following my return home from Israel, I set out on a new professional path, and am now working for the Combat Antisemitism Movement (CAM). I am devoting my life to standing up to Jew-hatred, in all its modern-day forms, and I will not let victims of antisemitism be forgotten.
WHO IS SHANI LOUK? GERMAN-BORN WOMAN PARADED AROUND GAZA AFTER HAMAS TERROR ATTACK AT MUSIC FESTIVAL IN ISRAEL
In the past month, we were attacked twice. First, by bloodthirsty Hamas terrorists looking to slaughter as many Jews as possible, and then by the demonstrators who have taken to the streets worldwide to celebrate Hamas' barbarity and incite more violence against the Jewish people and state.
No place seems safe for Jews anymore. We are being confronted with a countless flurry of menacing threats in our neighborhoods, at our synagogues and communal institutions, and on college campuses.
Where do we as Jews go from here? What can we do when our homeland and diaspora communities are under fire and facing grave dangers and much of the world is sympathetic to those seeking us harm?
FROM THE DEADLY DESERT RAVE TO THE FRONT LINES, ISRAELI RESERVE SOLDIER RECOUNTS CONCERT MASSACRE
First, we must set aside any internal differences and unite, setting the collective well-being of the entire Jewish people, both in Israel and around the world, as our top priority.
Let us also remember that we are not alone. We have many allies, of all faiths and backgrounds, standing with us at this hour of dire need, and we should show them our deepest appreciation and forge even closer collaborative ties to help us overcome the daunting challenges ahead of us.
Furthermore, we must try to educate and foster understanding among those who are willing to listen about the predicaments Israel and the Jewish people are now coping with.
CLICK HERE FOR MORE FOX NEWS OPINION
As a survivor of Hamas' aggression, I am setting everything else aside and making it my life's mission to share my story as widely as possible, hoping that my personal account will have a broad impact in spreading the truth about the shocking antisemitic atrocities perpetrated on Oct. 7.
Never again is now, and I will do everything I can to ensure that no Jew has to suffer what I, and so many others who are no longer with us, went through on that ghastly day.
CLICK HERE TO GET THE FOX NEWS APP