Rep. Marjorie Taylor Greene, R-Ga., on Saturday said she plans to reintroduce a resolution to censure Rep. Rashida Tlaib, D-Mich., over comments on the war in Gaza after her previous one failed to get enough votes in the House. 
"I'm reintroducing my censure resolution against Terrorist Tlaib," Greene wrote on X, formerly Twitter. "I am removing 'insurrection' and replacing it with 'illegal occupation' on Oct 18th that broke the same federal laws as Jan 6 and led to hundreds of arrest and assault on Cap Police." 
Greene was referring to a pro-Palestinian rally Tlaib attended during which activists took over much of the ground floor at the Cannon House Office Building. 
Greene posted a photo of the 23 Republicans who voted against censuring Tlaib, calling them out as voting "no to censure Pro-terrorists Pro-Hamas Anti-Israel anti-Semitic Rashida Tlaib." 
CHIP ROY DEFENDS VOTE TO KILL CENSURE AGAINST RASHIDA TLAIB AS IT FRACTURES CONSERVATIVES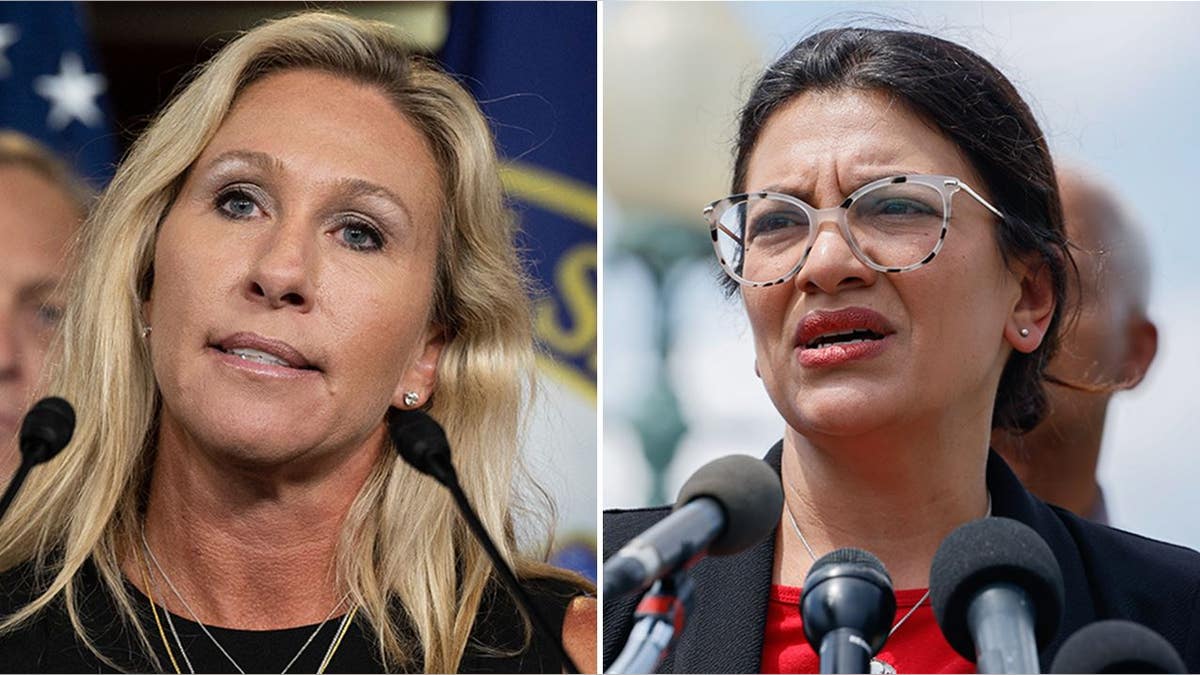 She wrote that she hoped they "will use their freedom of speech in congress to censure (condemn) Terrorist Tlaib's speech, lies, and actions that incited an illegal occupation on Oct 18th."
She added, "They censured Adam Schiff so they should be able to vote to censure her. We can not stand by doing nothing while one of our colleagues calls for the genocide of our great friend and ally Israel. Terrorist Tlaib should be expelled but let's see if we can at least censure her."
Greene included something Tlaib wrote on X Friday that said, "From the river to the sea is an aspirational call for freedom, human rights, and peaceful coexistence, not death, destruction, or hate. My work and advocacy is always centered in justice and dignity for all people no matter faith or ethnicity." 
The phrase "from the river to the sea" was deemed a "code for eradicating" Israel by the Anti-Defamation League. 
RASHIDA TLAIB DEFENDS PHRASE ANTISEMITISM WATCHDOG DEFINED AS 'CODE FOR ERADICATING' ISRAEL 
Tlaib has also accused President Biden of "supporting the genocide of the Palestinian people" in the administration's backing of Israel on the war. 
The war started on Oct. 7 when Hamas launched a surprise attack on Israel. 
Thousands have been killed in Israel and Gaza. 
Hamas has also taken hundreds of hostages, according to the Israeli Defense Forces.
Tlaib called Greene's effort to censure her "unhinged" and "deeply Islamophobic" in a statement. 
"I am proud to stand in solidarity with Jewish peace advocates calling for a ceasefire and an end to the violence. I will not be bullied, I will not be dehumanized, and I will not be silenced."
She added that she would continue to call for a ceasefire, for all of the hostages to be released and "for every American to be brought home." 
CLICK HERE TO GET THE FOX NEWS APP
Greene has also been accused of making antisemitic remarks in the past.