NEWYou can now listen to Fox News articles!
Dr. Yoram Klein, director of trauma and critical care surgery at Sheba Medical Center, located just outside of Tel Aviv and the largest medical center in the Middle East, told me that he does not think in terms of medical miracles. But when I interviewed him on Doctor Radio on SiriusXM, his entire story was of miracles. 
First, he told me that all of the patients his hospital received after the Hamas atrocities (92 patients within eight hours on October 7 and several more since) are still alive. Many suffered from penetrating injuries, large amounts of internal bleeding and nerve damage. Some had ruptured vessels that were not immediately accessible in the operating room, and yet, over three weeks later all of them have survived so far.  
If that weren't miracle enough, Klein went on to cite several stories of spiritual overcoming and survival against all odds. One man, Amichai, which in Hebrew means "my people live," held the door of the shelter where he was with both his hands while the terrorists were targeting him, his wife, and his six kids, Klein said: 
ROCKET FROM GAZA HITS NEAR FOX NEWS' TREY YINGST: 'DIRECT IMPACT'
"And he just held the door and absorbed all the munitions and gunfire they were aiming at opening the door, and they failed, and they just figured out that they are wasting too much time here and went to find families that were easier to kill – this cost him severe injuries, but he saved his family. He lost one hand, and the other hand, one forearm basically … is severely damaged.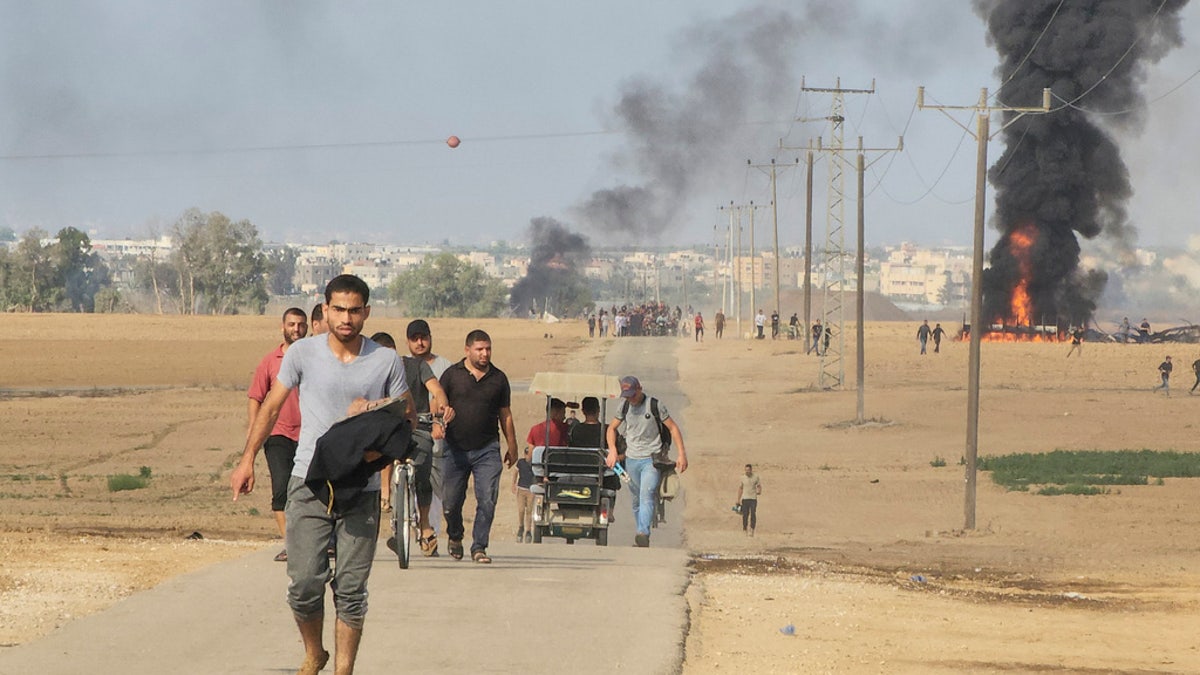 "He had a thoracic (chest) injury, facial injuries, head injuries, but he was treated – an army medic put a tourniquet on his hand, saved him from exsanguinating, he was flown to us, and we treated him, and I am happy to say that he survived, he is fully alert, he is communicating, and this morning he left my department to the rehab center." 
The use of tourniquets saved lives on October 7, but also cost limbs because of the long evacuation time of five or six hours. By the time the patient arrived at the hospital there was irreversible damage to the arm or leg. "And nowadays, we are facing the second wave of complications due to these terrible injuries namely infections, tissue damage, renal failure." 
The second medical miracle he spoke to me about involved a 2-year-old child. "We are the national burn center," he said, "the worst burn patients we have here are young parents with a 2-year-old child. The mother is a physician, they shut themselves in the protected area, in the protected room.  
"And since the terrorists couldn't open the door to kill or to kidnap them, they set the house on fire, and then they threw a gas cannister into the room and opened it and shot it until it blew away and set the house on fire. 
"They put the baby between them and hugged each other with the baby between their bodies and crawled through the window and hid in a truck. And luckily they survived and were able to be evacuated to Sheba. The three of them are in serious condition."   
The final miracle he spoke of brought me to tears. It involved the Jewish tradition of breaking the glass during the marriage ceremony which either denotes the fragility of marriage or commemorates the destruction of the second temple in Jerusalem in 70 CE.  
Either way it is an extremely important ritual. Klein spoke to me about his emotional involvement with one particular patient which clouded his surgical judgment. It took a sign from God to almost kill the patient but ultimately to save him: 
"You always get involved emotionally, you know, we are human beings. There are victims that we are more emotionally attached to than others. I have to tell you a story. One of the things, is that you always favor life over limbs of course. If you have to amputate a leg to save the life of a patient, you do that.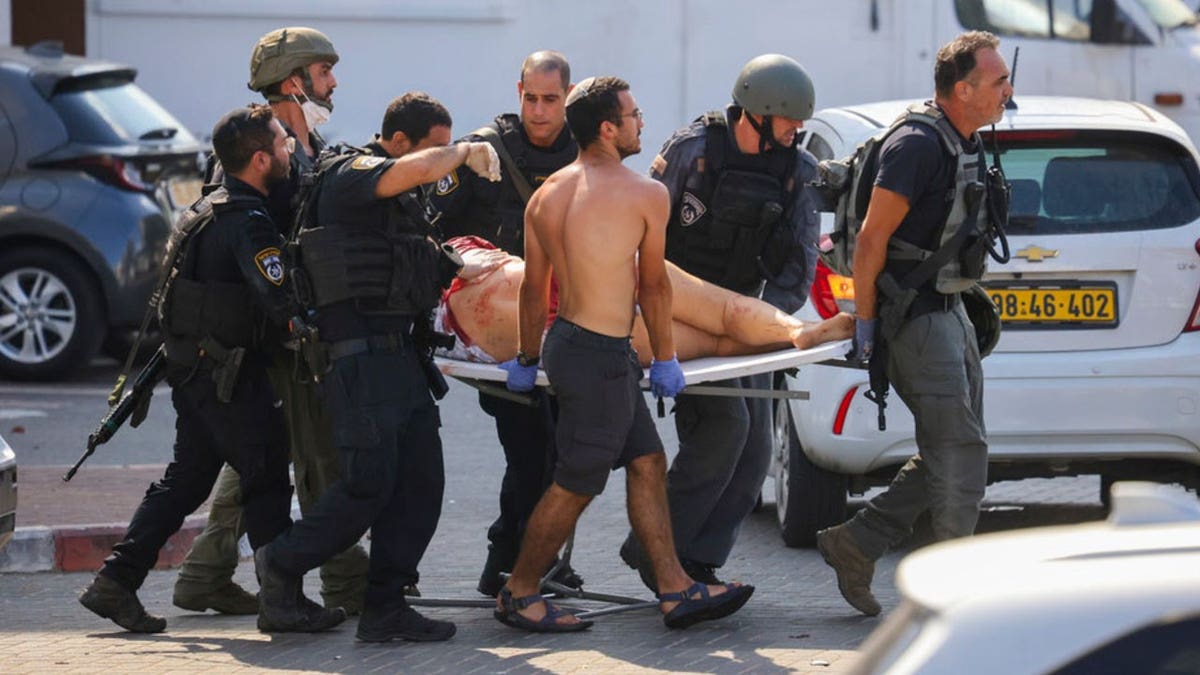 "But sometimes you are following the patient, and you are hoping he will improve, and you get too emotionally in touch, sometimes you have a blurred vision, and you wait – sometimes you might wait too long, until it's sometimes too late.  
"And I have one combat officer from one of the Israeli top elite forces that was shot in the thigh and the medic put a tourniquet on that saved his life because the bullet severed his femoral artery. But the tourniquet was there maybe six or seven hours.  
CLICK HERE FOR MORE FOX NEWS OPINION
"And when he arrived to the hospital he was alert, he was conscious, and he told us, I am about to get married, and this is the leg I want to break the glass with, please maintain my leg.  
"And then when we put him to sleep, we sedated him, took him to the operating room, the vascular surgeons reconstructed his femoral artery, we relieved the tension from the leg in a procedure called a fasciotomy, and we started to follow him.  
And since the terrorists couldn't open the door to kill or to kidnap them, they set the house on fire, and then they threw a gas cannister into the room and opened it and shot it until it blew away and set the house on fire. 
"And every day, four or five times a day, I'm observing the limb, and asking myself is it okay, should I fight some more or should I amputate the leg. And because of this little thing he whispered to us, I am afraid that maybe I got a little bit too emotional, and maybe I waited too long and the thing that saved his life is that the repair of the artery broke down three days later, and he started to bleed profusely, almost exsanguinated again.
CLICK HERE TO GET THE FOX NEWS APP
"So, we rushed him to the operating room, and thanks to that bleeding I succeeded to see the leg, the lower limb objectively. And I saw that the limb is gone, that the limb is poisoning him (developing gangrene). I amputated the leg, and the bleeding saved his life."  
Some of us might say, who do believe in miracles, that it was God's hand which caused that expertly repaired artery to bleed – just in time. 
CLICK HERE TO READ MORE FROM DR. MARC SIEGEL