House Democratic Leader Hakeem Jeffries, D-N.Y., indicated his caucus would defend its progressive members even as pro-Israel outside groups threaten to recruit and back primary opponents against those that have been critical of the U.S.'s Middle Eastern ally.
"Outside groups are going to do what outside groups are going to do," Jeffries said at a press conference Friday. "I think House Democrats are going to continue to support each other."
Groups like the American Israeli Public Affairs Committee (AIPAC) have been attacking the progressive "Squad" and other lawmakers who have opposed aid to Israel in its war on terror group Hamas.
DEMOCRATIC SOCIALISTS OF AMERICA FOUNDING MEMBER LEAVES OVER ITS 'MORALLY BANKRUPT' RESPONSE TO HAMAS ATTACK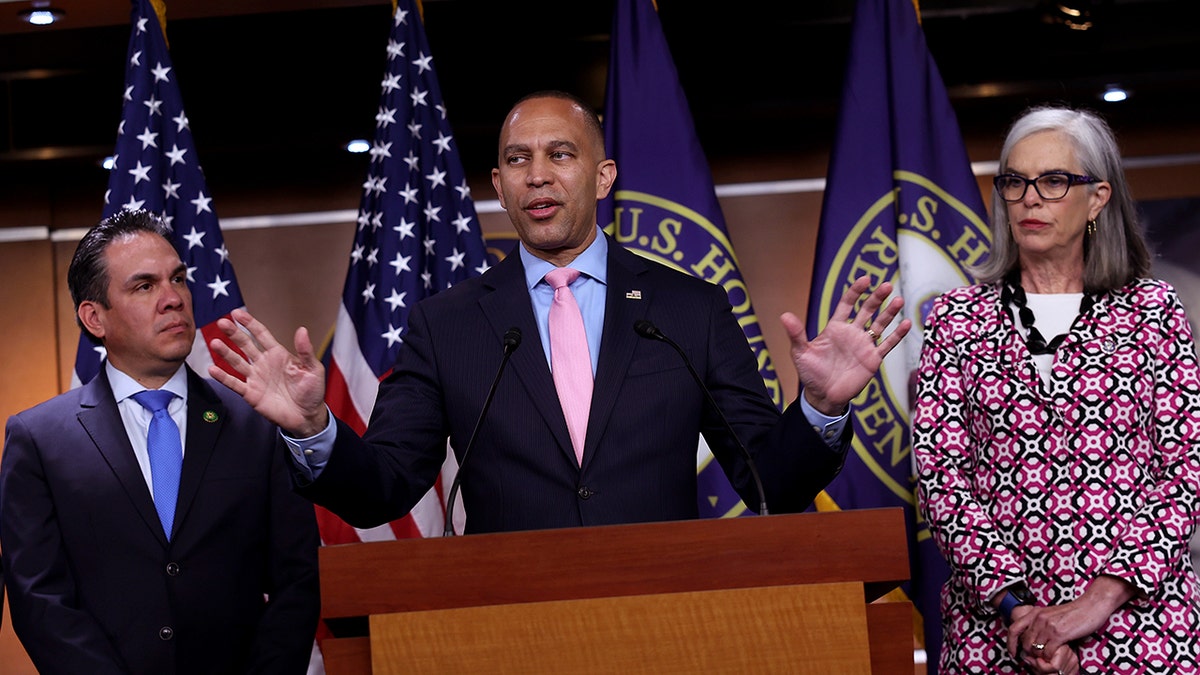 Many of those same lawmakers targeted — including Reps. Ilhan Omar, D-Minn.; Rashida Tlaib, D-Mich.; Alexandria Ocasio-Cortez, D-N.Y.; and Jamaal Bowman, D-N.Y., among others — have emphatically criticized Israel and its government in the past. 
Jeffries' defense comes after he sent a clear message to AIPAC and other special interest groups that House Democratic leaders would support incumbents.
ROGAN AND GREEN BERET WARN STUDENTS ARE BEING 'INDOCTRINATED' AND 'RADICALIZED' TO HATE AMERICA, ISRAEL
Jeffries, along with House Minority Whip Katherine Clark, D-Mass., and Caucus Chair Pete Aguilar, D-Calif., endorsed Omar for re-election over the summer, months after the House GOP majority voted to remove her from the Foreign Affairs Committee over controversial anti-Israel comments.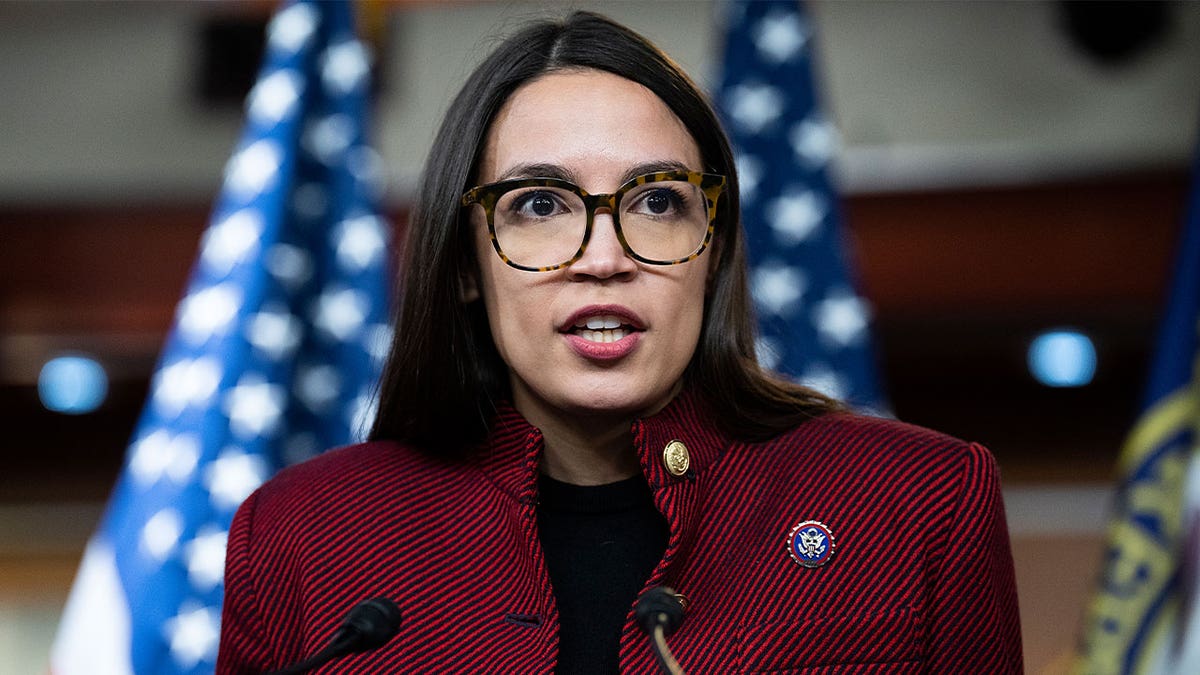 "Rep. Omar has been elected by her constituents three times and has consistently stood up for them, including through her service on the House Budget Committee," Jeffries said in a statement. 
"As House Democratic Leader, I vigorously endorse her re-election and stand with her as we battle extreme MAGA Republicans for the future of our nation."
HALEY: US 'ACTING LIKE IT'S SEPTEMBER 10′ AMID 'UNHOLY ALLIANCE' OF HAMAS, RUSSIA, IRAN AND OPEN BORDER
Both Omar and Ocasio-Cortez tore into AIPAC earlier this week after the group criticized them and others for voting against a resolution to condemn Hamas.
"AIPAC endorsed scores of Jan 6th insurrectionists. They are no friend to American democracy," Ocasio-Cortez wrote on X. "They are one of the more racist and bigoted PACs in Congress as well, who disproportionately target members of color. They are an extremist organization that destabilizes US democracy."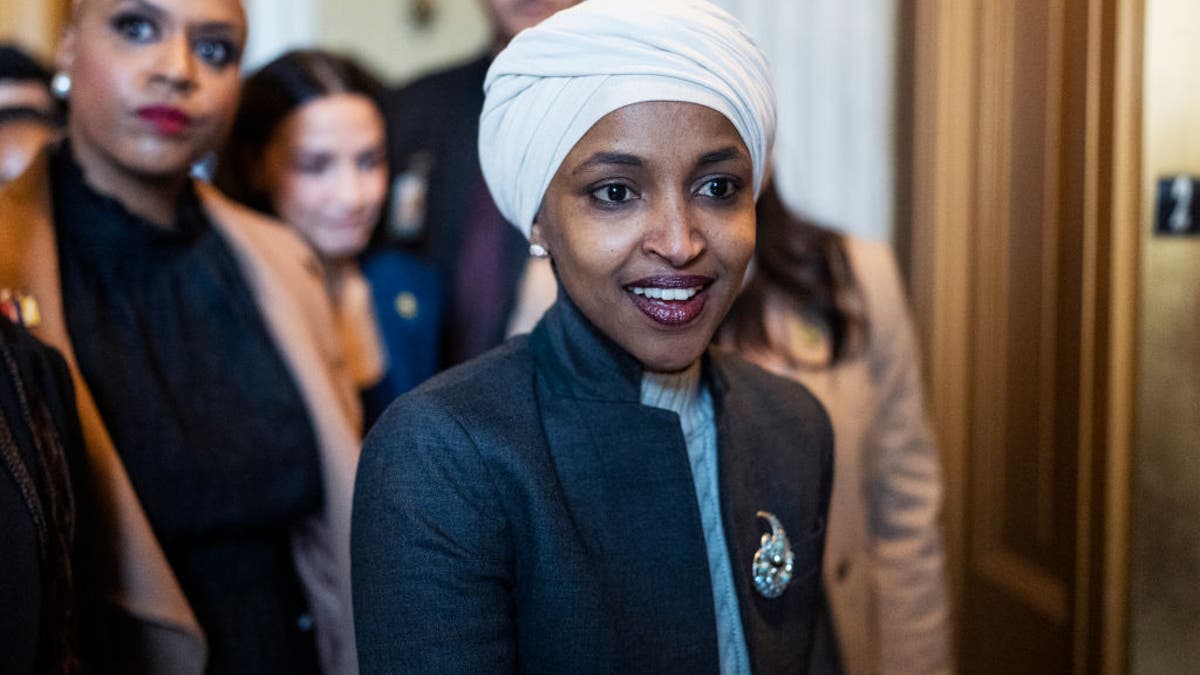 CLICK HERE TO GET THE FOX NEWS APP
"AIPAC literally ran ads with my face next to Hamas rockets, resulting in a string of threats against my life," Omar said Wednesday. "When Democratic leadership called them out, they refused to apologize and kept the ads up. What they are doing is insulting and Islamophobic."
AIPAC did not immediately respond to a request for comment on Jeffries' remarks Friday.