NEWYou can now listen to Fox News articles!
As the House gets back to business, among the top items for consideration on the new speaker's agenda is the White House's proposal for continued aid to Ukraine. The package put forth by the Biden administration calls for approximately $60 billion in new aid to Kyiv along with additional aid to Israel and U.S. border security provisions. 
Though support for Ukraine has thus far been a bipartisan effort, there is growing skepticism about continuing U.S. aid, with particular concern that Americans are once again footing the bill for Europe's security. 
There is a growing and understandable belief in Congress that America cannot care more about European security than the Europeans do. Our allies in Europe must step up and fulfill their commitments to NATO and Ukraine.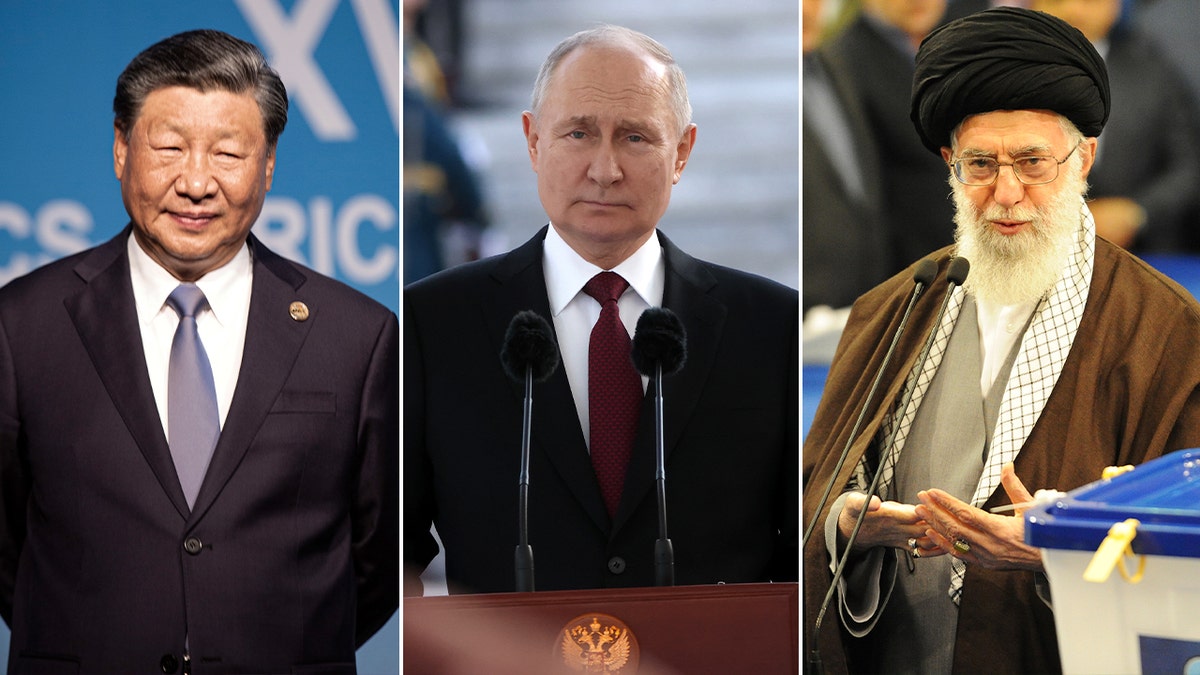 Lawmakers in Washington are also right to scrutinize where hard-earned American taxpayer dollars are spent and to ensure that the burden of assisting Ukraine is shared by our allies.
WHITE HOUSE BLASTS HOUSE GOP FOR SETTING 'UNPRECEDENTED BAR' IN NEW BILL TO AID ISRAEL
I still believe it is important to provide consistent support for Ukraine's military in the face of Russian aggression. When left unchecked, aggression such as that exhibited by Russia and Iran begets further aggression. 
The conflict in Ukraine demonstrates that if given the weapons and tools they require, Ukrainians will not hesitate to make the great sacrifices necessary for their country and check Russian aggression for the benefit of us all.
To defeat Russian, Iranian and Chinese aggression requires more than military equipment sales to Ukraine, Israel and Taiwan and increased defense spending by America's allies. The West must end the economic support given to our adversaries through sanctions loopholes, subsidies, investments and other aid. 
The International Monetary Fund (IMF), to which the U.S. is the most significant contributor, has provided Russia with at least $30 billion in economic support since 1998, including $22 billion in 2014, the same year Russian tanks rolled into Crimea. 
China has also become a mighty economic and military power thanks to American investment and the country's blind eye turned to China's massive intellectual property theft. 
LABELING CHINA, RUSSIA AND IRAN AS NEW 'AXIS OF EVIL' WILL NOT NEUTRALIZE THE THREATS THEY POSE
During the 1990s, U.S. political leaders pushed for China's inclusion in the World Trade Organization. With the assistance of the business community, which jumped at the opportunity to serve a billion new potential customers, they convinced Congress to increase its assistance to the PRC, which marked a significant turning point in China's development. 
China suddenly had access to trillions of dollars to fund military and foreign expansion — $2 billion of which has come from U.S. state and local government pension funds since 2010.
The relaxation of enforcement of sanctions against Iran and the unfreezing of the ayatollah's assets in exchange for the release of hostages (also known as ransom payments) has been an economic windfall to the Islamic Republic, which is growing rich. Since this administration reversed the prior administration's maximum pressure campaign, Iran's foreign currency reserves have grown from approximately $4 billion to over $70 billion.
It is time for Congress to undertake a comprehensive review of America's direct and indirect economic support for adversaries, their investments in U.S. assets, real estate and companies, as well as the effectiveness of our tools for protecting Americans from such activities.
RUSSIA EVADES WORLD'S SANCTIONS WITH LESSONS LEARNED FROM IRAN: 'AN ALLIANCE OF CONVENIENCE'
One such tool is the Committee on Foreign Investment in the United States, which was established to review the national security implications of foreign investments in America. 
CFIUS meets at and is dominated in both Democratic and Republican administrations by the Treasury Department. Treasury's default position is to get deals done and not to rock the international economic boat, especially where China is concerned.  
While Congress extended CFIUS's jurisdiction five years ago, the slew of recent foreign military-sensitive transactions within our borders speaks to the need to give the committee more authority and a wider scope in short order.  
For example, in October, the Czechoslovak Group (CSG) — an enterprise that allegedly has ties to Russian interests — purchased Vista Outdoor, a prominent American ammunition company, for nearly $2 billion. CSG even sponsored an exhibition in Moscow to help Russian authorities secure European military technologies and has engaged with prominent Russian organization linked to the regime. Yet there was scant attention paid to this transaction in the U.S. 
CLICK HERE FOR MORE FOX NEWS OPINION
It makes no sense to everyday American citizens and to an increasing number of members of Congress and senators that the U.S. shells out hundreds of billions to Ukraine, Israel and Taiwan in military aid while at that same time we support our adversaries' economies.  
It is time to fully enforce existing sanctions and expand them where malign actors are concerned. Multilateral loans and trade benefits and concessions, especially to China and Russia, should be curtailed to the greatest extent possible.  Outbound U.S. investment, including of government and other pensions, to these nations must end to protect our retirees and America. 
It is time to strengthen the CIFIUS process to stop our best companies, real estate and assets from being scooped up by our adversaries or those with strong links to them.
CLICK HERE TO GET THE FOX NEWS APP
These efforts will not succeed if our allies do not take similar steps to contain our adversaries' economies as they wage war on and threaten our democratic partners. Fairly sharing the burden with the U.S. of defending those nations under attack, especially Ukraine, is also necessary. 
The good news is that by standing together on these issues, the Free World can defeat and deter its adversaries.  The time to act in Washington and allied capitals is now.
CLICK HERE TO READ MORE FROM ROBERT O'BRIEN