NEWYou can now listen to Fox News articles!
Dean Phillips, the Minnesota congressman challenging Joe Biden for the Democratic Party's nomination, is a grandson of the late Abigail Van Buren, the advice columnist known as "Dear Abby." How appropriate that Phillips' run is sending Democrats some valuable guidance: 
1. Joe Biden is too old and could lose to Donald Trump.
2. The much-lauded cohesion in the Democrat Party is not always a plus.
3. Competition, as Joe Biden likes to say, is a good thing.
Phillips is a popular moderate who says he's running because Biden is too old to be president for another four years, and is not likely to beat Trump.   
REP. DEAN PHILLIPS LAUNCHES 2024 DEMOCRATIC PRESIDENTIAL PRIMARY CHALLENGE AGAINST BIDEN
The young Democratic congressman is in good company. A Wall Street Journal poll at the end of August found 73% of registered voters agreed that Biden "is too old to run for president." Meanwhile, the race between Biden and Trump is currently a toss-up.    
Phillips is certainly not the only Democrat worried about the 2024 election. But he is one of the few to push for a primary contest, which he has done for months, to no avail. In the wake of Phillips' entry into the race, Democrats have (predictably) circled the wagons, with many rebuking him for suggesting voters look for alternatives to Joe Biden. 
While the Republican caucus is seriously divided and almost impossible to manage (see: House Speaker battles), Democrats adhere like Gorilla Glue to the party line. They rarely stray off message and generally show tremendous loyalty to their party's leaders.  
That monoculture is useful when trying to pass controversial bills in Congress, but that same rigidity could bite them next year if Biden's prospects continue to decline. Phillips is responding to polling that shows not only Republicans and Independents losing confidence in the president, but Democrats as well. An NBC poll shows 60% of Democrats would welcome a primary challenger to Biden. 
You would think such readings might inspire party leaders to open the doors to challengers.  After all, what is the virtue of sticking with a candidate desperately underwater in the polls and whose age-related infirmities are increasing? Here's a newsflash: Joe Biden is not getting any younger.  
Biden's approval numbers could get worse. The economy is very likely to weaken between now and the election next year, enthusiasm for the war in Ukraine is waning and the conflict in the Middle East is turning progressives and some young voters against the president. 
At the same time, increasing evidence of Biden's alleged corruption and influence peddling is further undermining his standing. Voters no longer think Biden is honest, a serious tarring of his brand. 
All that, and Democrats have shown little appetite for hosting a vigorous primary and inviting others to campaign. What are they afraid of?
It appears they are afraid of competition, perhaps worried that the inevitable debate would fracture Democrats' cohesion and expose the unpopularity of much of Joe Biden's agenda.   
Phillips himself is criticizing the Biden White House for its border policies, which he calls "inhumane" and "not secure." Others might want to take on crime in our large cities, or how rising prices are hurting working class families. Progressives disagree with the president's support for Israel; Rep. Pramila Jayapal of Washington recently warned the president that he may lose support from the Muslim community.  
When a president is vulnerable on so many fronts, he deserves to be challenged. 
BIDEN BREAKS CENTURY OLD TRADITION AS HE FORGOES FILING FOR THE PRIMARY IN THIS STATE
Phillips' colleagues on the Hill profess to be astonished at the Minnesotan's decision, which they predict will "torpedo" his political career. They say, according to CBS News, that Phillips may think he's doing the right thing, but that he could end up hurting Biden and has zero path to victory. 
Those fellow members of congress are likely right, except that Biden and the Democratic National Committee gave Phillips an opening by changing the party's primary calendar and putting South Carolina first. In doing so, he stripped New Hampshire of their 123-year run hosting the first-in-the-nation primary. 
When a president is vulnerable on so many fronts, he deserves to be challenged. 
Granite State Democrats are not happy, and are insisting on jumping ahead of the Palmetto State anyway. As a result, the DNC has disavowed New Hampshire's contest; Biden's name will not be on the ballot.
Consequently, Phillips could conceivably win the New Hampshire contest, which will not garner him delegates but will earn him some headlines. Biden's team is mounting a write-in campaign in New Hampshire; if that loses, the president will come off looking weak.
The change in the primary schedule was clearly made to benefit Biden; Black voters in South Carolina secured him the nomination in 2020 and will almost certainly turn out for him once again. But it could have been a big mistake; he did not need to do it.
CLICK HERE FOR MORE FOX NEWS OPINION
Phillips' candidacy will likely become one of those obscure political footnotes that may someday determine a Trivia contest unless… he encourages others to join as well. 
For sure, other contenders are champing at the bit. California Gov. Gavin Newsom traveled to China last week looking presidential indeed, striding with his entourage through the Great Hall of the People to meet with President Xi.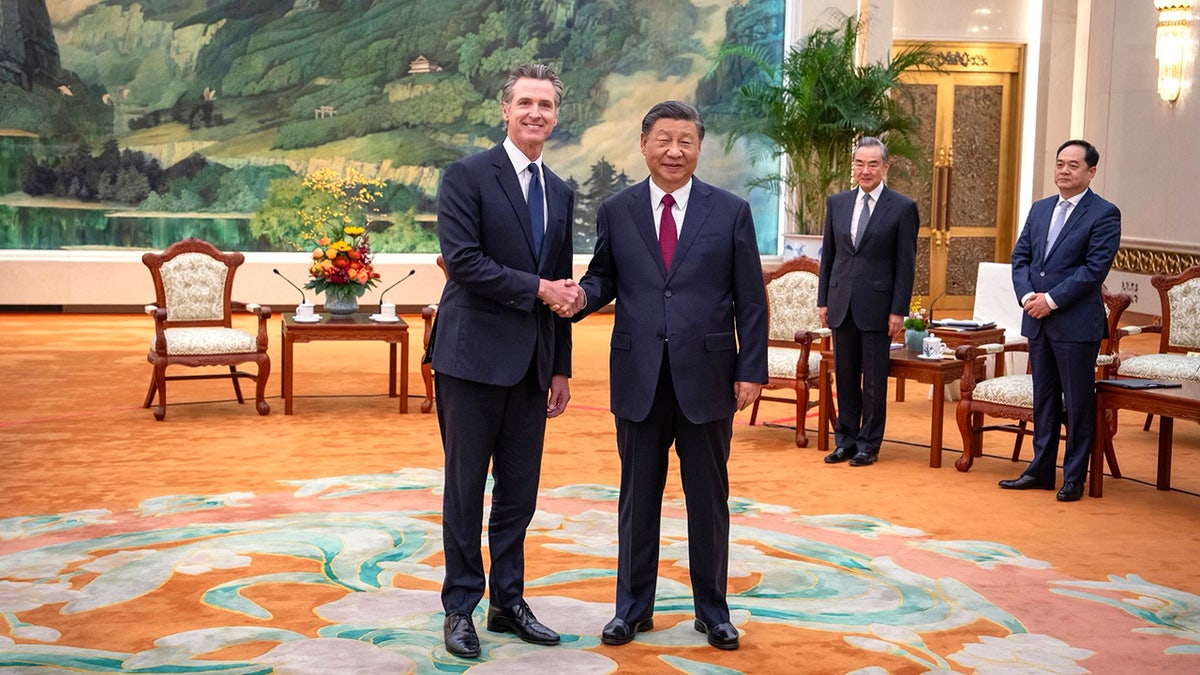 And then there's Vice President Kamala Harris, who helpfully reassured "60 Minutes" correspondent Bill Whitaker in a recent interview that Biden was "very much alive" and running for president, lest anyone think that a body double has taken the president's place. 
Democratic Governors Jay Pritzker and Gretchen Whitmer and others are also poised to throw their hats in the ring if Joe Biden steps aside, according to insiders.  
CLICK HERE TO GET THE FOX NEWS APP
Meanwhile, Phillips is leading the charge. The congressman's most convincing argument for taking up the baton? He told Politico that, "I believe that the president is one of the few — one of the few — Democrats that can lose to Donald Trump, and that's why somebody has got to compete."  
Guess what? Phillips is probably right. 
CLICK HERE TO READ MORE FROM LIZ PEEK