NEWYou can now listen to Fox News articles!
President Biden's track record on the economy is abysmal. Spending trillions of taxpayer dollars on liberal nonsense plunged our economy into chaos, fueled 40-year-high inflation, and decimated American household wealth. 
Biden's failed economic policies – which he has coined "Bidenomics" – have created uncertainty and headaches for our small businesses, forced families to dip into their savings to keep up with rising prices, and raised operating costs for our farmers. In short, Bidenomics fueled the worst affordability crisis for American families in decades. 
As a strong, fiscal conservative, I remain committed to ending reckless government spending, lowering taxes for our families, and restoring fiscal responsibility so that our families, farmers and Main Street businesses can afford to thrive.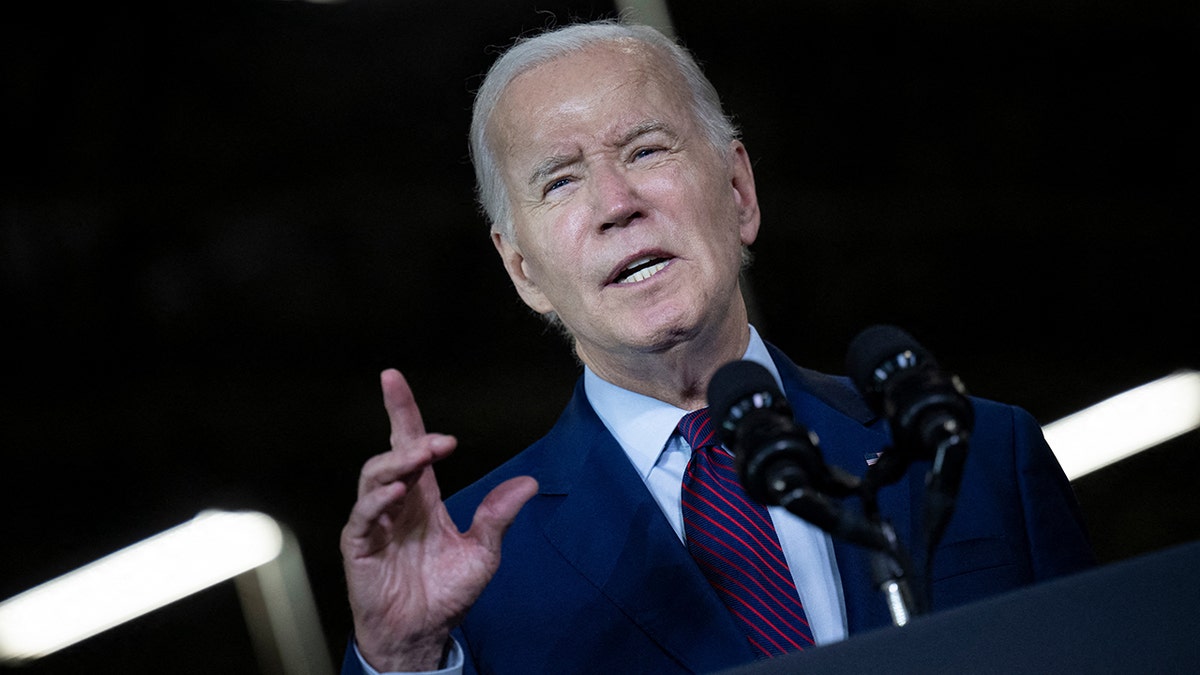 By the numbers, Bidenomics is the primary force behind record-high inflation, expensive gas, unaffordable housing and ballooning debt.
YELLEN AND REST OF BIDENOMICS TEAM IGNORE MIDDLE-CLASS MISERY THEIR POLICIES CREATE
According to data from the U.S. Bureau of Labor Statistics, the cumulative inflation rate has exceeded 17.1% under Biden's disastrous economic policies. As a result, American families are paying $15,133 more for groceries, gas, housing and other household goods every year than they were in January 2021. 
In September, prices also jumped 3.7% from a year ago and have shown no indication that they will retreat any time soon. The average credit card balance in the United States has jumped 11.1% from last year to over $6,000 today, and the U.S. Census Bureau further reported that real median household income for American families has fallen – from $76,330 to $74,580 – for the third year in a row. 
Flooding our economy with trillions in unnecessary dollars emptied Americans' wallets and depleted their bank accounts, in turn, forcing them to accumulate unsustainable levels of credit-card debt to survive in the Biden economy. 
Regrettably, record-high inflation could have been avoided if Biden and Democrats in Congress had heeded my warnings that reckless government spending would fuel an economic crisis for American families. As a father of four, I believe that we need to operate the federal government like any household runs. That means spending within our means.
BIDENOMICS IS WORKING? TELL THAT TO MILLIONS IN DEBT AND GOING HUNGRY
Biden's unwarranted attacks on American energy production have also hiked prices. Thanks to these misguided actions, our families are paying an additional $1,436 for gas, $448 for electricity, and $125 for natural gas – every single year. 
By canceling the Keystone XL pipeline, proposing tax hikes on American energy producers and stalling energy projects with excessive red tape, the Biden administration has empowered radical activists at the expense of hardworking Americans. 
Instead of destroying our energy sector, we must develop all our natural resources – including homegrown Iowa ethanol and biodiesel – to lower gas prices for our families, end our reliance on our foreign adversaries for our energy needs, and restore American energy independence.
Additionally, Bidenomics has crushed the dream of homeownership for too many Americans. As the Federal Reserve raises interest rates to combat record-high inflation, new homeowners are paying an additional $1,201 every month – or $14,418 every year – on their mortgage. 
'IT'S HURT US BAD': AMERICANS GRADE PRESIDENT BIDEN'S HANDLING OF THE ECONOMY AS HE TOUTS 'BIDENOMICS'
In the same vein, rent prices have skyrocketed by 17.4% over the last two years. American families are now shelling out an additional $740 every year for rent thanks to Biden's wasteful spending policies. 
This cannot be the norm. Folks who have responsibly saved their money and made financial sacrifices should not be hindered by limited housing options, soaring housing prices and exorbitant mortgage rates. That's why I helped introduce the Neighborhood Homes Improvement Act, which would encourage more home construction in rural communities, and the Affordable Housing Credit Improvement Act, which would lower prices for renters. 
According to the Congressional Budget Office (CBO) – a nonpartisan entity that reviews the financial impact of fiscal policy – our federal budget deficit has eclipsed $1.7 trillion for this fiscal year; a $314 billion increase from last year. 
CLICK HERE FOR MORE FOX NEWS OPINION
The CBO also reported that interest payments on our debt increased by $177 billion and, if Biden's student-loan forgiveness plan hadn't been struck down by the Supreme Court, the federal budget deficit would have been $2 trillion. 
At current rates, the United States would add $1 trillion to our national debt every 45 days. That is unacceptable and unsustainable. We need a course correction immediately.
Biden's wasteful spending policies have hurt American families, bankrupted our country and weakened our economy. We need to stop printing trillions of dollars and overturn the Biden administration's costly executive orders that have decimated domestic energy development and exacerbated the affordability crisis facing hardworking Americans. 
CLICK HERE TO GET THE FOX NEWS APP
Serving on the House Ways and Means Committee, I will continue my work to end reckless government spending, unleash American energy dominance, and rebuild our crumbling economy, and let American families keep more of their hard-earned money through a simpler and fairer tax code. 
By restoring fiscal responsibility in Congress, we can begin to reduce our crippling national debt, ensure economic prosperity for our children and grandchildren, and make everyday life affordable once again for hardworking Americans.
CLICK HERE TO READ MORE FROM REP. RANDY FEENSTRA