NEWYou can now listen to Fox News articles!
In a rare Oval Office address to the nation, President Biden announced his administration's request for a $100 billion emergency supplemental funding package. This package links funding for Ukraine, Israel and our southern border. 
By linking these three disparate issues together, the administration is hoping to build support for politically fraught funding requests. The issue that is garnering the least amount of attention but will likely have the biggest and most immediate impact on our country is the border funding request. Let's have a look. 
Though the $13.6 billion for the border supplemental request is the smallest of the three earmarks, it represents an approach to border security that does nothing to secure the border. Instead of putting the American people first, this request has everything to do with supporting the administration's failed policies.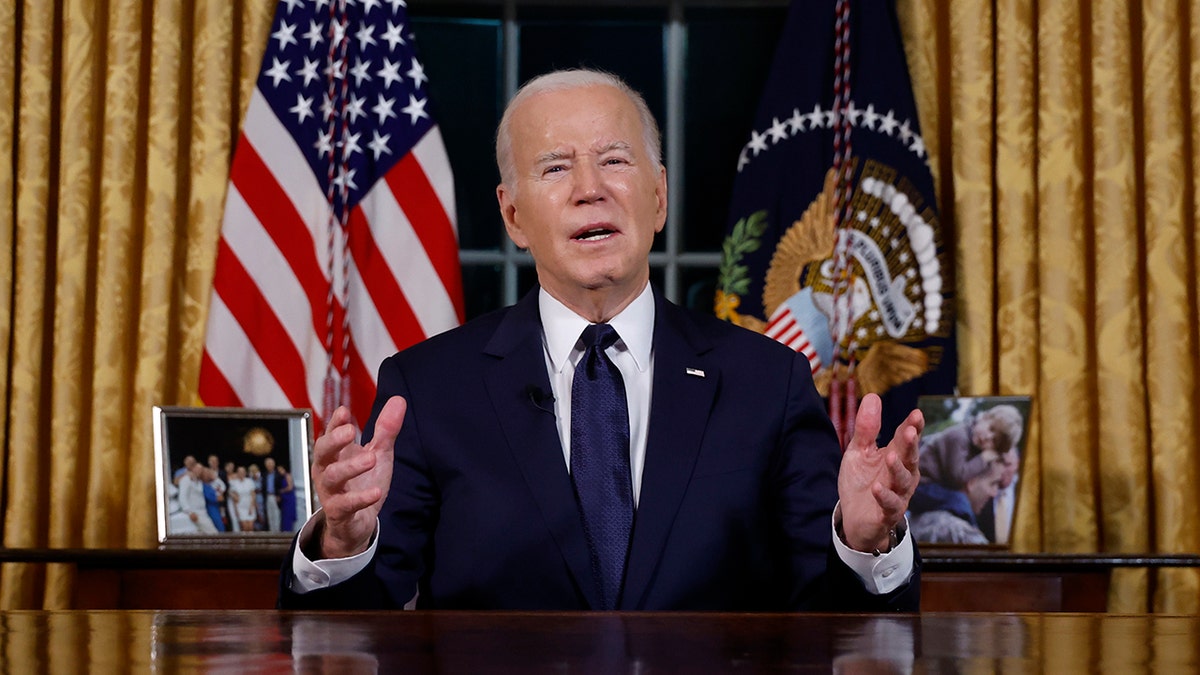 The almost $14 billion exacerbates the humanitarian and security catastrophe at the border because it will go toward misplaced priorities. Rather than helping to solve serious problems, this funding would further encourage illegal migration and fuel the continuing crisis we see playing out in major cities across the country.  
CRUZ SAYS BIDEN'S $105 BILLION FUNDING REQUEST 'DESIGNED' TO WORSEN BORDER CRISIS
Congress has a track record of trying to solve difficult problems with new funding. Based on my experience, we are not dealing with a funding problem at our southern border — we have a policy problem. 
Until the policies change, the underlying strategy and approach will continue to fail. Remember, Congress provided the Department of Homeland Security $1.5 billion last fiscal year for "border processing," and the situation has only gotten worse, not better. 
The Biden administration is blaming anyone but themselves for the border crisis, and this supplemental request follows this same playbook.
Unsurprisingly, the administration doubled down on this approach by using the funding request to lecture congressional Republicans to "stop playing political games with border security and provide the resources our law enforcement personnel need to keep the Southwest border secure and stop the flow of fentanyl into the United States." 
BORDER PATROL AGENTS RELEASED OVER 900,000 ILLEGAL IMMIGRANTS INTO US LAST FISCAL YEAR
That's rich to hear from an administration that has continued to execute a failed border security strategy for more than 30 months.
The real issue is not a lack of funding from Congress. Until the administration chooses to prioritize border security, the American people will not be safe from fentanyl or suspected terrorists coming across our border.
This is the same administration that has repeatedly delayed publishing each month's unprecedented border apprehensions data. Case in point, September's data to close out Fiscal Year 2023 was quietly released on Saturday, Oct. 21, when the administration hoped you were too busy watching college football or carving pumpkins to notice. 
Of particular concern to the American people should be the 70,000 special interest aliens and 282 known or suspected terrorists apprehended at the border so far during the Biden administration.
This supplemental request is asking to continue failed policies. For example, the $4.4 billion for U.S. Customs and Border Protection is for processing illegal aliens and transporting them to the American community of their choice instead of deterring illegal immigration and enforcing the law.
BIDEN ADMIN MAY HAVE LOST TRACK OF MILLIONS OF MIGRANTS CROSSING SOUTHERN BORDER: CONGRESSIONAL REPORT
Additionally, an undeclared amount of your taxpayer dollars would go to the non-governmental organizations that prioritize offering shelter, food, clothing and other resources for illegal aliens over poor Americans.  
Unsurprisingly, there is no money dedicated to building the border wall system that the Biden administration recently declared an "immediate and acute" need to thwart illegal immigration.
Much of the rest of the request is the functional equivalent of an illegal alien slush fund. That includes $1.85 billion in welfare payments to illegal aliens from Cuba and Haiti and $755 million to U.S. Citizenship and Immigration Services, a component of the Department of Homeland Security that is supposed to be funded by fees instead of taxpayer dollars. 
Rather than dealing with the issue of illegal aliens, this money would be used to speed up the approval of work permits for millions of them whom the Biden administration has allowed into the country. 
Furthermore, the State Department would receive $1.3 billion to support and promote "safe, orderly, and humane migration," which is Biden administration lingo for its unlawful categorical parole programs.
CONSERVATIVE GROUP URGES REPUBLICANS, NEXT SPEAKER NOT TO 'SQUANDER' CHANCE TO FIX BORDER CRISIS
Lastly, though the nearly $4 billion to hire additional immigration judges and U.S. Immigration and Customs Enforcement attorneys sounds good, it does not provide a near-term solution. The time it will take to hire and onboard all these people will do nothing in the immediate term to stop the record flow of illegal aliens coming to the country. And removal orders from judges are meaningless if they are not enforced.
Therefore, I strongly encourage Congress to reject the administration's border supplemental and instead fund border policies that put the American people first.
Here are proven policies that Congress should fund to secure the border, end human trafficking, and defeat the cartels. 
First, the border wall system works, and our southern border needs additional construction beyond the 20 miles the Biden administration claims it is building. 
Second, Congress must significantly increase U.S. Immigration and Customs Enforcement's detention capacity well beyond the nominal increase the Biden administration is now seeking and increase funding for removal flights. 
CLICK HERE FOR MORE FOX NEWS OPINION
It is a fact that illegal aliens who are released out of custody tend to disappear into American communities while those who are detained are removed. When migrants realize that there are consequences to breaking our immigration laws, they are deterred from attempting to be smuggled or trafficked to the border. 
Third, Congress should require taxpayer dollars to be spent on resuming the Remain in Mexico policy that prevented asylum fraud. 
Fourth, Congress should defund all unlawful parole programs, including the CBP One app that the Biden administration converted into a concierge service for illegal aliens to schedule their unlawful entry into the country.
CLICK HERE TO GET THE FOX NEWS APP
These recommendations are just the beginning of the steps our government should take, but they will go a long way in actually solving the border crisis. 
If Congress accedes to the White House's request, they will share ownership of a crisis defined by mass human trafficking and record fentanyl smuggling that is making every American community more dangerous.
CLICK HERE TO READ MORE FROM CHAD WOLF