NEWYou can now listen to Fox News articles!
The U.S. intelligence community claims so far that it has not seen any signs of direct Iranian involvement in the decision of its proxy Hamas to launch an unprecedented strike on the Israeli heartland. 
Anyone familiar with the Iranian regime's modus operandi most likely raised eyebrows with U.S. intelligence reporting key Iranian leaders were surprised by the attack. This assertion contradicts signs of direct Iranian involvement that are consistent with what we know about Iran's behavior that has gone unchecked since 2020.  
Now is the time for the Biden administration to return to a hardline policy against Iran to protect Israel and stop a regional war.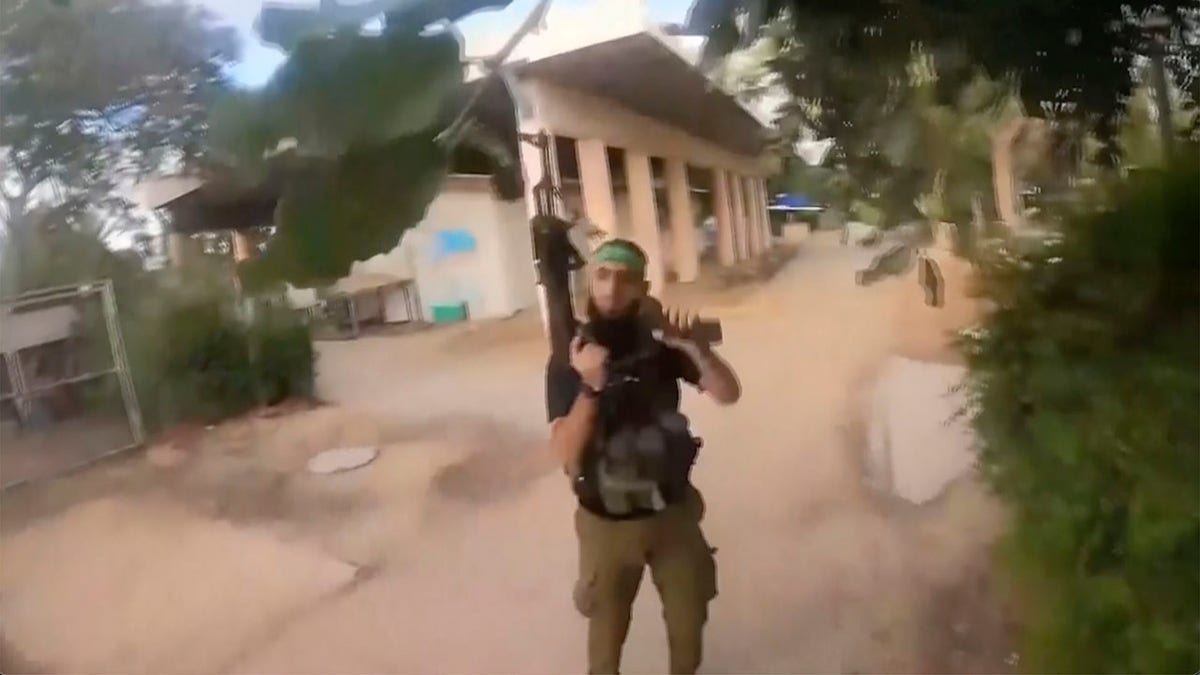 What is unfolding is not a conflict between Israel and Hamas. It is Iran's war against Israel through proxies that are simultaneously harassing U.S. troops in the region. 
ISRAEL VS. HAMAS: COULD HEZBOLLAH, WITH IRAN'S HELP, BE PREPARING TO JOIN THE FIGHT AGAINST THE JEWISH STATE?
Iran seeks to provoke Israel using a two-front assault from Hamas in Gaza and Hezbollah in Lebanon, while the U.S. Navy in the Red Sea intercepted drones and three missiles from Iranian-backed Houthis in Yemen heading toward Israel on Oct. 19.  
While these provocations continue, Iran decries Israel's response and threatens to become involved when the Israeli Defense Forces (IDF) enter Gaza. Iran's threats ring hollow: it is already involved.
Hamas' hybrid assault on Israel merely highlights the growing sophistication of Iran's militant operations. Previews of this crisis emerged in the 2021 drone attacks against Saudi Arabia from Iranian-backed Houthis in Yemen using Iranian weapons. In 2019, Houthi militants used Iranian missiles against Saudi oil ships transiting Bab al-Mandeb from the Red Sea. Iranian-backed Shi'a militias have also repeatedly used Iranian drones to attack U.S. troops in Iraq and Syria such as occurred on Oct. 18. 
This recent attempt on U.S. troops makes all the more suspicious the activities of IRGC Qods Force Commander Esmail Qaani two weeks before the attack in Israel. He arrived in Damascus, Syria, on Sept. 21 to speak to IRGC, Hezbollah and other Shi'a militant troops and monitor joint training exercises. 
Qaani's presence, his condemnation of the U.S., and the simulations led to concern for the safety of U.S. troops because it looked like the Iranian-backed groups were preparing to try to expel U.S. forces by attacking them. In retrospect, it appears Qaani was readying troops for a wider conflict.
NETANYAHU SAYS IF HEZBOLLAH LAUNCHES A WAR AGAINST ISRAEL AND INVADES, 'IT WILL MAKE THE MISTAKE OF ITS LIFE'
With this context, Hamas' complex assault on Israel could not have happened without Iran's assistance. The U.S. signaled as much with the decision to work with Qatar to silently suspend Iran's access to the $6 billion in humanitarian assistance.
Admittedly, U.S. politicians who claimed that this $6 billion facilitated Hamas' recent attacks have their concerns somewhat misplaced because the money had not been transferred to Iran. More importantly, despite the safeguards put in place for the money to be used for humanitarian purposes and overseen by the U.S. Treasury Department, the $6 billion alleviates the stress of economic sanctions against Iran, allowing Iran to redirect even more funding to terrorist groups like Hamas and Hezbollah. 
According to the State Department, Iran gives Hezbollah approximately $700 million annually and Hamas $100 million annually, or one-third of Hamas' budget. Iran can afford to bankroll these groups by making upwards of $40 billion in oil sales according to the Energy Information Administration. As a result, the $6 billion must be permanently suspended and oil sales stopped to resume the previous economic stranglehold on Iran that had resulted in significant financial woes for Hezbollah in 2019.
Iranian financial support does not include the weapons it exports. The Qods Force branch of the Iranian Islamic Revolutionary Guard Corps (IRGC), the paramilitary organization responsible for Iran's military operations abroad, has a group, Unit 700, that offers Hamas and Hezbollah unfettered access to Iranian smart weapons, including armed drones, missiles and rockets, through transports from Syria destined for Lebanon. 
Israel is aware of this pipeline and has conducted recent strikes on airports in Aleppo and Damascus to denigrate further Iran's capacity for weapons transfers. Hamas obtains Iranian weapons smuggled across the border or using boats on the Mediterranean or shipped from Yemen and Sudan through tunnels in the Sinai. These weapons combined with technology transfers allow Hamas to operate with a high degree of self-sufficiency in creating their own missiles in Gaza.
ISRAEL, UKRAINE, CHINA: WELCOME TO A WORLD ON FIRE WHERE THE LEFT GETS THE SCENARIO IT ASKED FOR
Iran also provides training on how to use what it transfers. The IRGC Qods Force Unit 500 provides guidance on operating in a hostile environment like Israel based on its experiences in Iraq. The IRGC unit also coordinates closely with Hezbollah Unit 3800, both of which assist IRGC Qods Force Unit 840 in the recruitment of Palestinians in the West Bank and Jerusalem to train them how to conduct operations, including with the use of explosives and lone-wolf attacks, against internal Israeli targets. 
Iran has its resources positioned for a multiprong attack against Israel. As a result, weapons stockpiles, Hezbollah's missile sites, and overland weapons shipments in Lebanon must become targets of U.S. military operations with Israel to send a strong message to Iran to pull back Hezbollah.
At the same time, the U.S. must state without equivocation our understanding of Iran's involvement in Hamas' attack on Israel. 
WSJ sources from Hezbollah and Hamas claimed unidentified IRGC personnel were present to "green light" the operation in Beirut after assisting with the operational planning in August 2023, with Hamas determining the timing and contacting Iran and Hezbollah once it started.  
QATAR NEEDS TO EXPEL HAMAS LEADERS AND IF NOT, AMERICA SHOULD DO IT FOR THEM
NYT sources affiliated with the IRGC claimed detailed knowledge of the operation, including how Hamas used secrecy and stopped the use of electronic devices to surprise Israel. While difficult to confirm details about the conduct of the operation, little dispute exists on the role of Hezbollah training Hamas on the tactics used during the attack.  
Beirut undoubtedly served as the critical nexus for the Oct. 7 planning and execution. A joint operations room established by 2021 allows a streamlined operational consultation between the IRGC Qods Force, Hezbollah, Hamas and PIJ. It also represents a consultative body for command-and-control discussions with Hamas and PIJ and secure means to request IRGC Qods Force surveillance capabilities with drones without risking exposure to Israeli electronic surveillance. 
This location ensures the joint operations room is available for IRGC Qods Force personnel, Hezbollah, and other members of the Resistance Movement because Hamas military leader Saleh al-Arouri and PIJ General Secretary Ziad Nakhaleh live in Beirut. It would be curious to have such a coordination center and not have used it in this case. 
CLICK HERE FOR MORE FOX NEWS OPINION
Finally, according to Iranian Supreme Leader Ayatollah Khamenei's newspaper, it was the Qods Force that devised a strategy, before 2020, to attack Israel while Iran served as the "mind and hands" behind Hamas. Senior Hamas official Ali Baraka claimed on Russia Today TV that coordination for the detailed Oct. 7 plan began with Iran two years ago. In the meantime, Khamenei denied a direct Iranian role in the attack even as he praised it.
All this information is why the U.S. public messaging dismissing Iran's direct involvement in the Oct. 7 attack strains credulity. The attack on Israel was an opening volley by Iran. The U.S. must address Iran's malign behavior directly and deny Iran's destabilization of the region.
CLICK HERE TO GET THE FOX NEWS APP