NEWYou can now listen to Fox News articles!
It is said that in war, truth is the first casualty. That's a statement so profound that even the truth of the quote's author is much debated. Truth has been hard to find in the more than two weeks since Hamas terrorists launched a rape, kidnapping and murder pogrom against Israel.
Our so-called neutral, legacy media have gone out of their way to both-sides the aftermath of the attack. Blaming both sides for "war crimes" or raising repeated questions about the level of barbarism in the assault. And the media allowed blatant antisemites to cover it, even one who celebrated Adolf Hitler.
This real-time version of Holocaust denial was so bad that Israel organized a screening of the videos posted by the murderous monsters of Hamas. The Atlantic commendably called the result, "A Record of Pure, Predatory Sadism."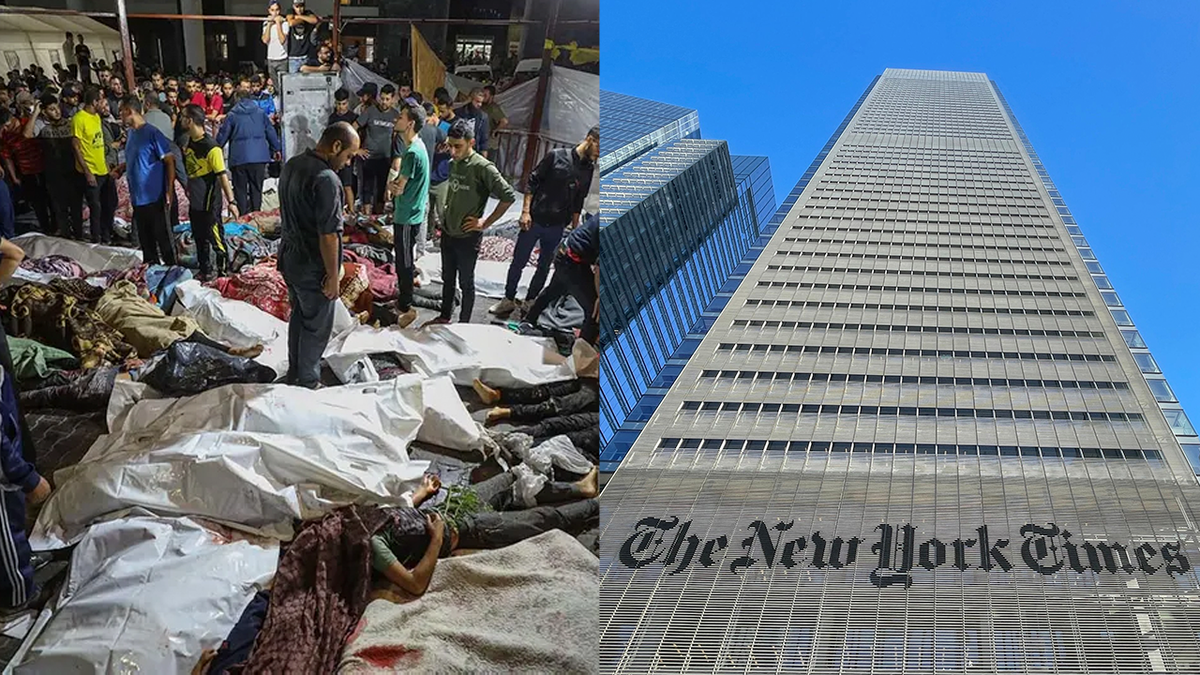 The New York Times, which has embarrassed itself and put Jewish people at risk around the world with its coverage, decided to use a neutral headline this time: "Israel Shares Raw Footage of the Oct. 7 Attacks." That headline has all the emotion of, "Israel Unveils New Falafel Stand."
MEDIA HAS EGG ON ITS FACE FOR ALLOWING HAMAS TO SET INITIAL TONE OF GAZA HOSPITAL COVERAGE WITHOUT SKEPTICISM
Here's what that antiseptic headline tried to hide, from the Times' own report: "Bloodied corpses lying in a bedroom, a bathroom, on the roads by their cars. An emergency medical worker pouring mineral water from a bottle to douse the smoldering remains of charred bodies. A dead baby whose body bore signs of violence."
It continues with, "In another village, an assailant is heard calling his parents in Gaza from the phone of an Israeli woman. 'I killed 10 Jews with my bare hands!' he shouted, according to an audio recording, adding, 'Mom, your son is a hero!'"
If it were any other victims, the media would be all over this attack and the fact that more than 200 people were taken as hostages. When Americans in the embassy in Iran were captured, we were reminded daily about "America Held Hostage" for 444 days. And they were adults who knew the risks, not children and seniors subjected to horrors sane people can't even envision. 
The Israeli part of the land war hasn't even begun and when it does, the coverage will likely be far worse. Still, the media failures have been profound. Here are the worst:
The hospital that Palestinian terrorists actually attacked
The liberal media that claim every other outlet pushes disinformation do a better job producing disinfo than Joseph Stalin. So when an explosion happened next to a Gaza hospital, they were quick to blame Israel. 
ISRAEL RELEASES UNEDITED VIDEO OF OCT 7 HAMAS ATTACK TO COUNTER 'HOLOCAUST DENIAL-LIKE PHENOMENON'
The Times ran with a main headline claiming, "Israeli Strike Kills Hundreds In Hospital, Palestinians Say." The paper went on to claim "500 dead." Turns out none of it was true. It wasn't an Israeli attack, it was a Palestinian rocket launch, it didn't hit the hospital and the death toll was nowhere near 500. The headline ran over a photo of devastation, giving the impression that it was the hospital. It wasn't. It was all propaganda from Hamas itself.
Yet, tons of news outlets went with it, unquestioningly reporting the propaganda from a group that commits gang rape, kidnapping of children and mass murder. The Times wrote a pathetically weak note about their failure, "Editors' Note: Gaza Hospital Coverage." The paper admitted it "relied too heavily on claims by Hamas, and did not make clear that those claims could not immediately be verified."
In other words, don't blame them for a minor mistake that set off global riots and antisemitism. It all stems from an insane policy that many in our press treat Gaza officials like they offer legitimate information, when they are actual terrorists. 
Standing by their antisemitic staffers
Breaking news brings out the best and worst in journalists. Some simply can't hide their biases any longer. Others never tried.
The Times rehired as a reporter Palestinian filmmaker Soliman Hijjy. Hijjy has a well-known fondness for Hitler. He was criticized in 2022 as old Facebook posts surfaced where he said nice things about the genocidal goosestepper. In one, he put in a caption that said he was "in a state of harmony as Hitler was during the Holocaust." He's covering the war for them. I'm sure he'll be neutral. They think so, defending him as having "maintained high journalistic standards." 
TIM SCOTT BLASTS MEDIA, 'THE SQUAD' FOR BECOMING 'DISGUSTING' EXTENSION OF 'HAMAS PROPAGANDA MACHINE'
LA Times investigative reporter Adam Elmahrek openly doubted the story about babies being decapitated by the monsters of Hamas. He calls himself a "Palestinian citizen of Israel" and repeatedly tried to undermine news about the Hamas attack or the explosion near the hospital. "If you're not making it clear that Palestinian rockets haven't historically been able to kill more than one or two at a time, you're not doing this right," he wrote.
Then there's former Washington Post Global Opinions editor Karen Attiah. She became so blatant in her radical politics some time back that the paper made her a columnist. She made it clear which side she cared about in the conflict, Hamas, writing a column headlined, "We cannot stand by and watch Israel commit atrocities." She also said Israel should, "call for a cease-fire" and just allow Hamas to stay in control of Gaza with 220 hostages.
Media double standards
If the liberal media didn't have double standards they wouldn't have any at all. So they have tried hard to treat Israel, the most-democratic nation in the Mideast, the same as the terrorist maniacs.
In the eyes of the press, both sides are committing war crimes. Here's AP saying just that, "Experts say Hamas and Israel are committing war crimes in their fight."
CLICK HERE FOR MORE FOX NEWS OPINION
Or sometimes they just blamed Israel, somehow forgetting the evil that Hamas committed or how it killed 1,400 people, wounding thousands more and kidnapping 220 people from little babies to aging seniors. 
Still, there's the pro-Hamas crowd like Sunny Hostin from ABC's insane "The View." She accused Israel three separate times of committing, "war crimes." "They should really refrain from committing war crimes or terror because they're going to lose the goodwill that they have," she said, referring to Israel.
Both CNN and MSNBC did the same, either saying that Israel urging non-combatants to get out of the way of the war was a "war crime" or finding someone else to say it. Both sides again.
CLICK HERE TO GET THE FOX NEWS APP
MSNBC host Ali Velshi referred to Israel's actions as "collective punishment of the Gazans." One wonders how he would have covered the allied invasion of Germany and demanded that Germany be sent food, medicine and connected to a power grid. Velshi continued, "Now, this is important to remember: that is a war crime. You cannot punish a Gazan child or a Russian child for the invasion of Ukraine. You cannot do that. That is against the Geneva Convention. It's against the law."
I could go on for another 300,000 or so words, but it wouldn't get any better. Michelle Goldberg wrote a column for the Times claiming, "It Is Impossible to Know What to Believe in This Hideous War." One thing is certain, don't believe the legacy media. Start there. 
CLICK HERE FOR MORE FROM DAN GAINOR