NEWYou can now listen to Fox News articles!
In his first appearance on Capitol Hill as president of the National Collegiate Athletic Association (NCAA), Charlie Baker made one thing crystal clear: he has no intention of correcting the policies of the failed era of Mark Emmert, which have left female athletes, following gains of 50 years of Title IX, fighting to protect the future of women's sports. 
The hearing before the Senate Judiciary Committee was called to examine pressing issues around athletes monetizing their name, image, and likeness (NIL) in collegiate sports, including whether athletes should be considered "employees" of universities. 
But that wasn't the only issue on the table. Three months earlier, Riley Gaines, a University of Kentucky All-American swimmer, had testified before the same committee.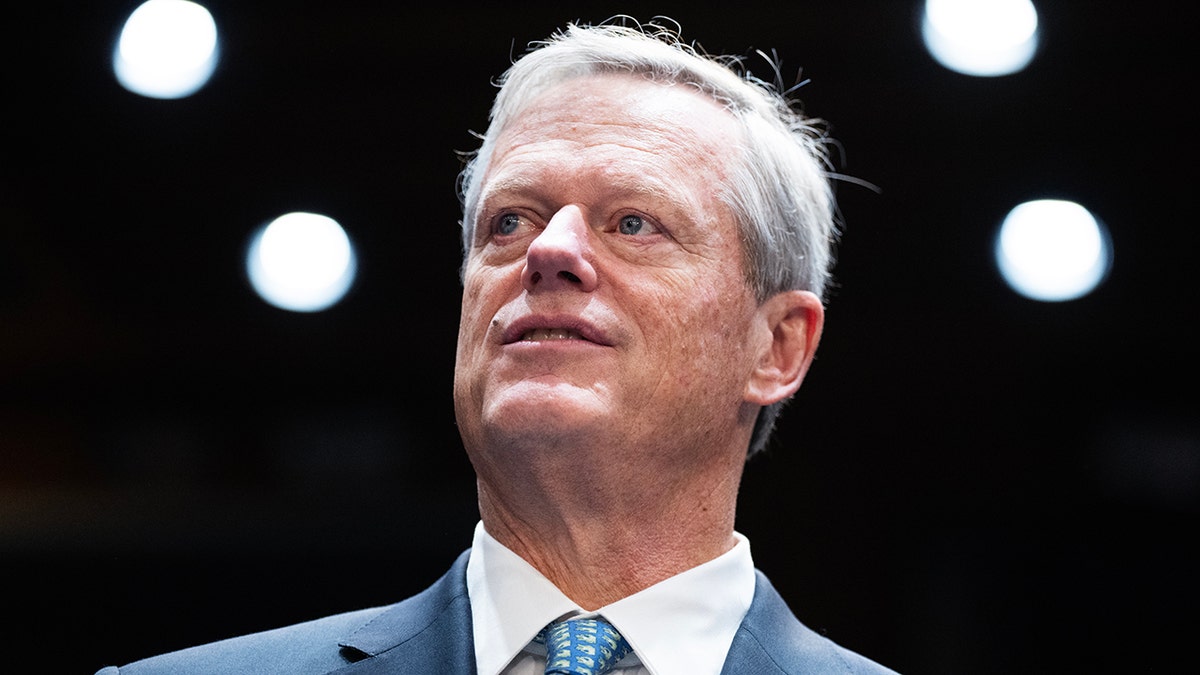 Gaines described the NCAA's exploitation of female athletes and failure to confront sex discrimination and harassment when allowing Lia Thomas, a natal male swimmer previously on the University of Pennsylvania men's team, to suit up in the same locker room and steal a national title in NCAA Division I women's swimming. 
JOSH HAWLEY: NCAA 'DEAD WRONG,' OWES APOLOGY FOR FORCING WOMEN TO SHARE LOCKER ROOMS WITH TRANS ATHLETES
That college female athletes are shouldering the burden in a battle over eligibility in women's sports as the NCAA pompously celebrates 50 years of Title IX is the ultimate hypocrisy ruling the NCAA today. 
The conflict resurfaced this fall at Roanoke College in Virginia. Women's swim team captains and their teammates at Division III Roanoke College stood up to university bullies and against NCAA policy to defend their turf against allowing a teammate formerly on the Roanoke men's swim team, now identifying as a woman, on the women's team.
Roanoke swimmers saw what happened when the NCAA allowed Lia Thomas to destroy the hard work and dreams of their peers. They knew standing up strongly against this injustice was essential to their own success and was a statement to empower others. 
TOP SWIMMER SLAMS NCAA FOR 'ERADICATING' WOMEN'S RIGHTS IN SPORTS
But Charlie Baker, now in the driver's seat at the NCAA, appears smugly oblivious to the heartbreak and harassment in women's sports, even as the husband and father of athletes. 
As game changing as NIL issues are to the future of college sports, Baker's appearance on Capitol Hill was a pathetic display of his callous indifference to the impact of allowing trans-identifying males in female athletics.
In an op-ed in The Athletic, Baker acknowledges the potential negative return of NIL for female athletes in a sports industry dominated by football and men's basketball. But for women athletes, the dominating issue is much more basic. The very name, image, and likeness of being female in women's sports is up for grabs. 
In responses to Sen. Mike Lee, R-Utah, and others, Baker dodged questions of whether the NCAA ever apologized for forcing champion women to suit up with a male without consent, and whether women athletes must continue to step aside to allow males who claim our identity to compete in women's sports and share our locker rooms. What a huge disappointment.  
NCAA IS DESTROYING WHAT IT MEANS TO BE A FEMALE ATHLETE LIKE ME
Baker should have learned from the failures of his predecessor Mark Emmert and seen an opportunity to act early to right the ship. Instead, after six months on the job, he seems satisfied to grab a single headline that he "distances himself" from the Thomas affair, while feigning ignorance about any NCAA response to the situation and doing nothing about it. That kind of distancing is more like running away.
For those on the front lines of this fight, including the courageous athletes of Roanoke College, Baker's choice to run away from addressing the biggest threat to the integrity of college women's sports – the transgender athlete inclusion policy instigated and perpetuated by Emmert – is disqualifying. 
Identities don't compete in sports. Bodies do. Eligibility has always been based on objective categories, not subjective claims, for a reason. Runners don't run a race based on their race, but sex matters. Biological sex is the single most decisive outcome differentiating sports competition. Baker should know that.
CLICK HERE FOR MORE FOX NEWS OPINION
If this were an issue of Black athletes being forced to the sidelines by White men, it would never have happened. We wouldn't even be debating this. But females being sidelined to promote male identities and desires is perfectly tolerable for the NCAA.
Sitting in the NCAA's Indianapolis ivory tower has apparently made Baker just as out of touch with scientific facts, common sense and basic respect and decency as his predecessor. Allowing the NCAA to remain cloistered in activism and indifferent to exploiting women is now on his watch. 
CLICK HERE TO GET THE FOX NEWS APP