The Biden administration is asking Congress for $14 billion in funding to aid its efforts in combating the ongoing crisis at the border, including money for migrant services and housing, anti-fentanyl technology and more border agents.
The $14 billion is part of a $105 billion request put forward by the White House this week. It is significantly more than previous supplemental requests and comes as the U.S. is again seeing record numbers at the southern border.
The request includes $6.4 billion for "border operations," which includes $4.4 billion for holding facilities and reimbursement of support from the Pentagon. It also includes money for DNA collection and over $1.9 billion for Health and Human Services "to support eligible arrivals and unaccompanied children."
HIGH MIGRANT NUMBERS BREAK MULTIPLE RECORDS IN NEW BLOW TO BIDEN BORDER STRATEGY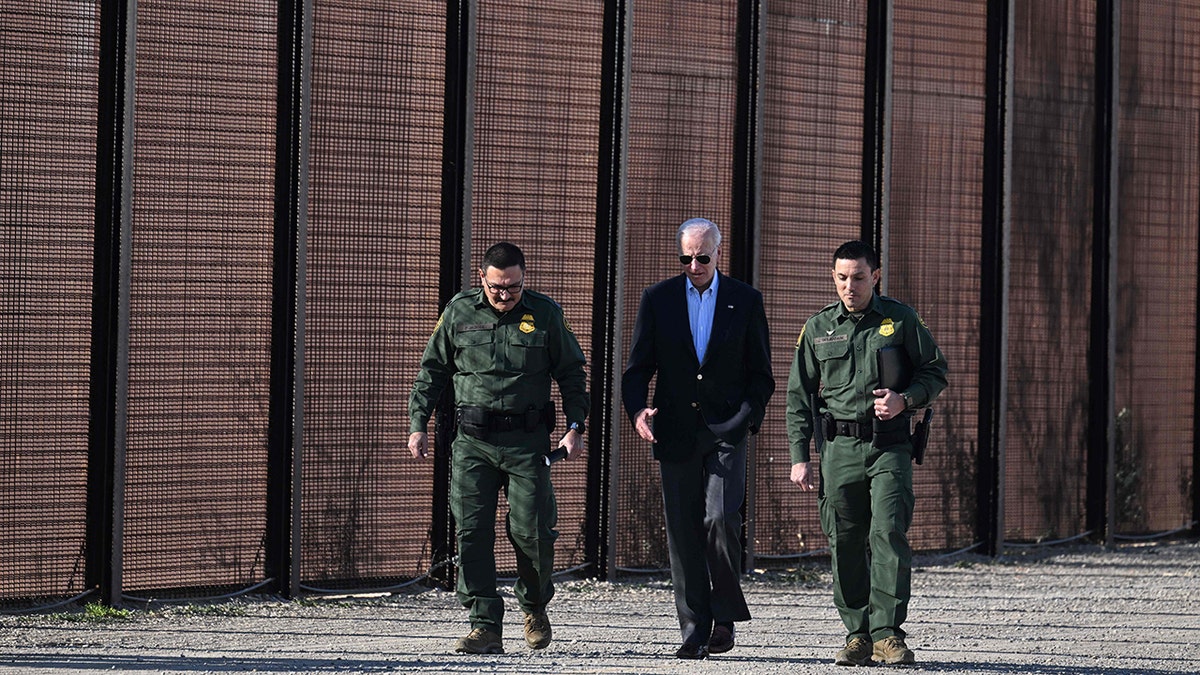 Related to migrant care is $1.4 billion for "shelter and services for migrants released from DHS custody. This is in addition to $800 million that has been dished out to states and non-governmental organizations by the administration in order to aid with the many migrants who have been released into the U.S. interior.
A fact sheet put out by the White House says the Biden administration's strategy is "focused on enforcement, deterrence and diplomacy" that includes a massive expansion of "lawful pathways" into the U.S.
The White House says the money includes funding for transportation, including removal flights and resources for alternatives to detention. It also includes money for "non-custodial housing options" for those in expedited removal, including facilities with housing, legal services and medical care.
"We are also seeking authorization to allow DHS to use transportation funded by appropriated funds to facilitate the movement of non-citizens who choose to depart from the United States in lieu of removal proceedings ('voluntary departure')," a fact sheet says.
In terms of staffing, there is $1.6 billion for additional Border Patrol agents, asylum officers and processing personnel, as well as $1.4 billion for additional immigration judges. The staffing includes 1,300 Border Patrol agents and 300 processing coordinators, 1,600 asylum officers. There is also funding for 1,470 additional attorneys and support staff.
In terms of countering the fentanyl threat, which killed 100,000 Americans last year, DHS is seeking $1.2 billion for resources including additional Customs and Border Protection (CBP) officers and "non-intrusive inspection system deployment" for ports of entry, where the majority of fentanyl is seized.
HOUSE GOP CAMPAIGN ARM BLASTS TOP DEM LEADER FOR CALLING BORDER WALL 'MEDIEVAL' 
More money is going to international efforts, which the Biden administration has emphasized as part of its strategy to deal with the millions of migrants who have flocked to the U.S. border. That includes $1.3 billion for "Safe Mobility Offices" and to support "host communities and legal pathways" in the region.
A relatively small $40 million is for foreign government repatriation operations, which the U.S. says is to fund those countries' own repatriation flights.
The Biden administration said it was crucial in its efforts to tackle the ongoing situation at the border.
"The request we have made of Congress today provides critically needed funding to equip the Department of Homeland Security with the people and tools it needs to prevent cartels from moving fentanyl through our ports of entry and to enforce our immigration laws in an orderly and effective way," DHS Secretary Alejandro Mayorkas said in a statement. 
HOUSE OVERSIGHT REPUBLICANS PUSH BIDEN DHS ON 'CONFLICTING' BORDER WALL POSITIONS
"At this time of unprecedented hemispheric and global challenges, we must come together to strengthen our ability to protect the American people. I strongly urge Congress to give the men and women of DHS the resources and support they need to achieve our safety and security mission," he said.
It is unclear to what extent the border part of the supplemental will receive Republican support. While Republicans have called for more Border Patrol agents and interior enforcement, they have been more skeptical of moves to process migrants into the interior. Legislation passed by the GOP-held House has included money for new agents, but it has ruled out them being used for processing.
CLICK HERE TO GET THE FOX NEWS APP 
Republicans instead have called for money to continue border wall construction, as well as legislation to limit the use of parole and mandate detention and removal for those who enter the country illegally. 
The request comes just as Customs and Border Protection (CBP) announced that the September migrant encounters at the southern border hit a record 269,000 encounters — making FY 23's encounters the highest on record.