FIRST ON FOX: The president of the Congressional Workers Union, who also works in the office of Democratic  Congressman Ro Khanna, attended a pro-Palestinian capitol protest this week and shared an Instagram post that accuses Israel of committing "genocide" against the Palestinians of Gaza. 
In an Instagram story obtained by Fox News Digital, Congressional Workers Union President Emma Preston shared a post saying it's a "false dichotomy" to say "you either support Israel or you hate Jews" and that you "can and absolutely should call for an end to the Israeli genocide of Palestinians" while also "condemning violence against Jews."
Preston, who works as a legislative assistant in the office of Dem. Rep. Ro Khanna, D-Calif., also posted screenshots showing her taking part in a swarm of pro-Palestinian protesters who called for a cease-fire inside and outside of the Capitol in response to a Hamas terrorist attack that killed over 1,200 Israelis and at least 30 Americans.
USCP told Fox News that approximately 300 demonstrators had been arrested in the protest on Capitol Hill, including at least three who were charged with assault on a police officer during the demonstrations.
MTG CALLS FOR TLAIB CENSURE FOR 'INSURRECTION', ASKS CAPITOL POLICE TO SAVE VIDEO OF ISRAEL-HAMAS WAR PROTEST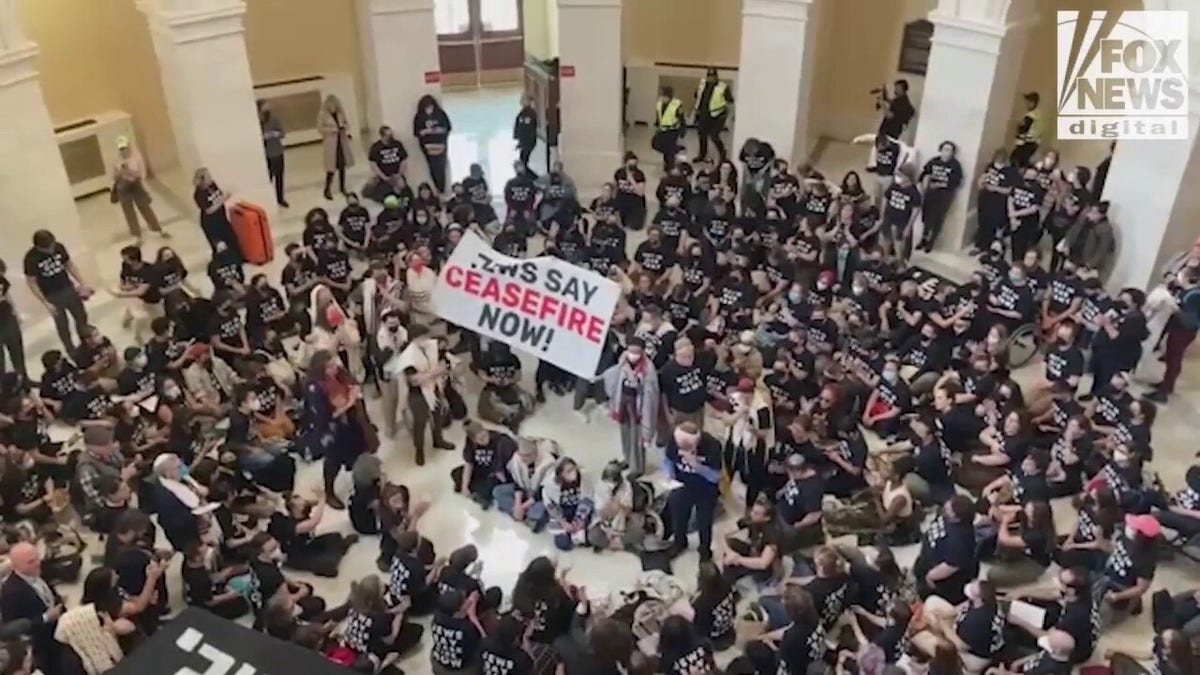 The protests at the Capitol were organized by Jewish Voices for Peace, a group that the Anti-Defamation League has labeled a "radical anti-Israel activist group that advocates for a complete economic, cultural and academic boycott of the state of Israel."
Democratic Rep. Rashida Tlaib also attended the rally outside the Capitol, where she also accused Israel of genocide and seemingly began to weep while accusing Israel of bombing a Christian hospital in Gaza which the Biden administration and Israel's government had both previously denied occurred. 
Tlaib is facing a demand for her removal from future classified briefings on military operations in Israel as a result of her position.
GOP LAWMAKERS CALL FOR PRO-HAMAS STUDENT VISA HOLDERS TO BE DEPORTED: 'NOT WELCOME HERE'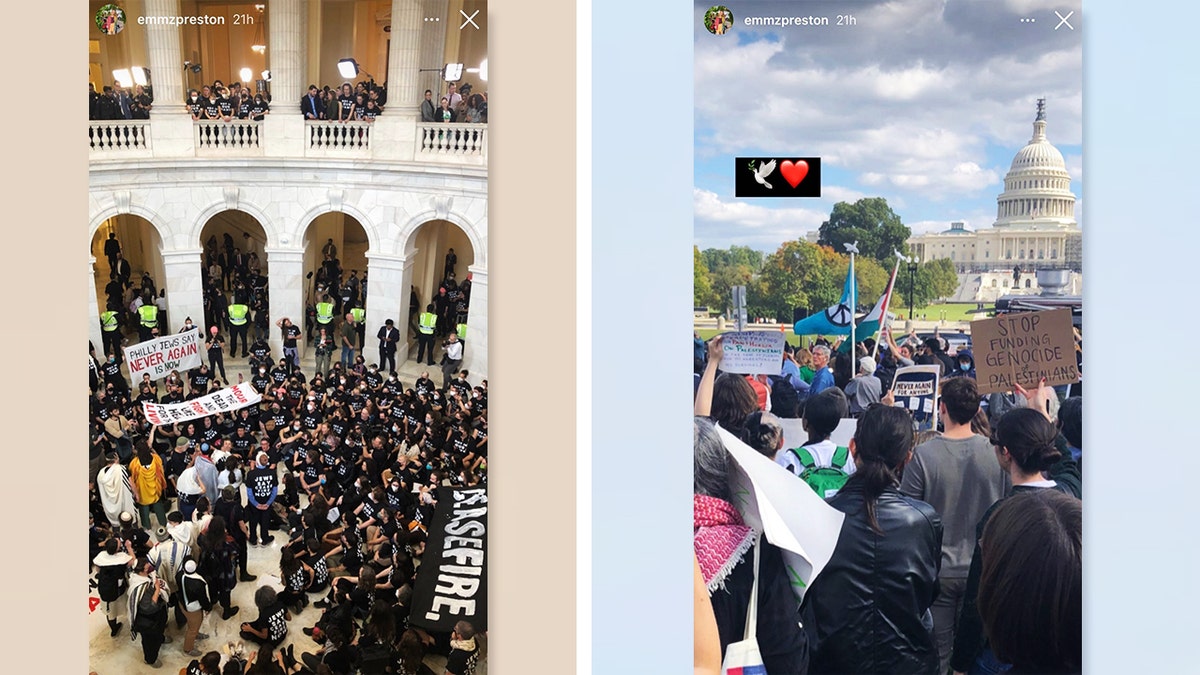 Preston, whose Instagram bio says "ACAB forever," which stands for "all cops are bastards," did not respond to a request for comment from Fox News Digital. Her instagram page also has posts promoting the defund-the-police movement and abolishing prisons.
A spokesperson for Rep. Khanna's office confirmed that Preston works in his office and has done "excellent work" on a variety of issues.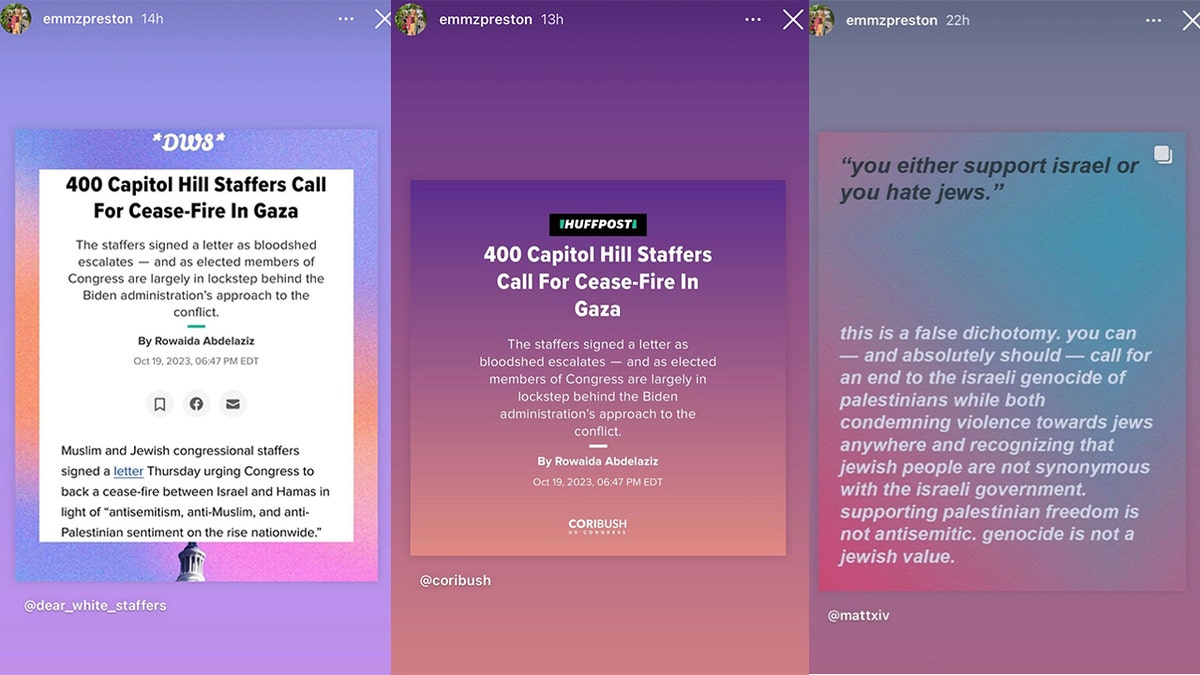 "Rep. Khanna has been clear in condemning Hamas's brutal assault on Israel and affirming Israel's right to self-defense," the spokesperson said. 
"Emma attended the rally in her personal capacity and those posts were made on her personal Instagram. Rep. Khanna is a strong supporter of free speech and believes his employees have the right to express their opinions in their personal capacities without the censorship of the state."