President Biden, speaking in Israel Wednesday, said, "There's no higher priority than the release and safe return of all these hostages" captured by the Palestinian terrorist group Hamas.
"Later this week, I'm going to ask the United States Congress for unprecedented support package for Israel's defense. We're going to keep Iron Dome fully supplied to continue standing sentinel over Israeli skies, saving lives," Biden also said. "We move U.S. military assets to the region, including positioning the USS Ford carrier strike group in the eastern Mediterranean with the USS Eisenhower on the way to deter further aggression Israel and to prevent this conflict from spreading."
Speaking about efforts to rescue hostages, Biden said "To those who are living in limbo, waiting desperately to learn the fate of a loved one, especially to families of the hostages – You're not alone. We're working with partners throughout the region, pursuing every avenue to bring home those who are being held captive by Hamas.."
Hamas is reported be holding around 199 Israelis and other foreign nationals, while as of Wednesday, 13 Americans remain unaccounted for since the beginning of its new war with Israel.
LIVE UPDATES: ISRAEL AT WAR WITH HAMAS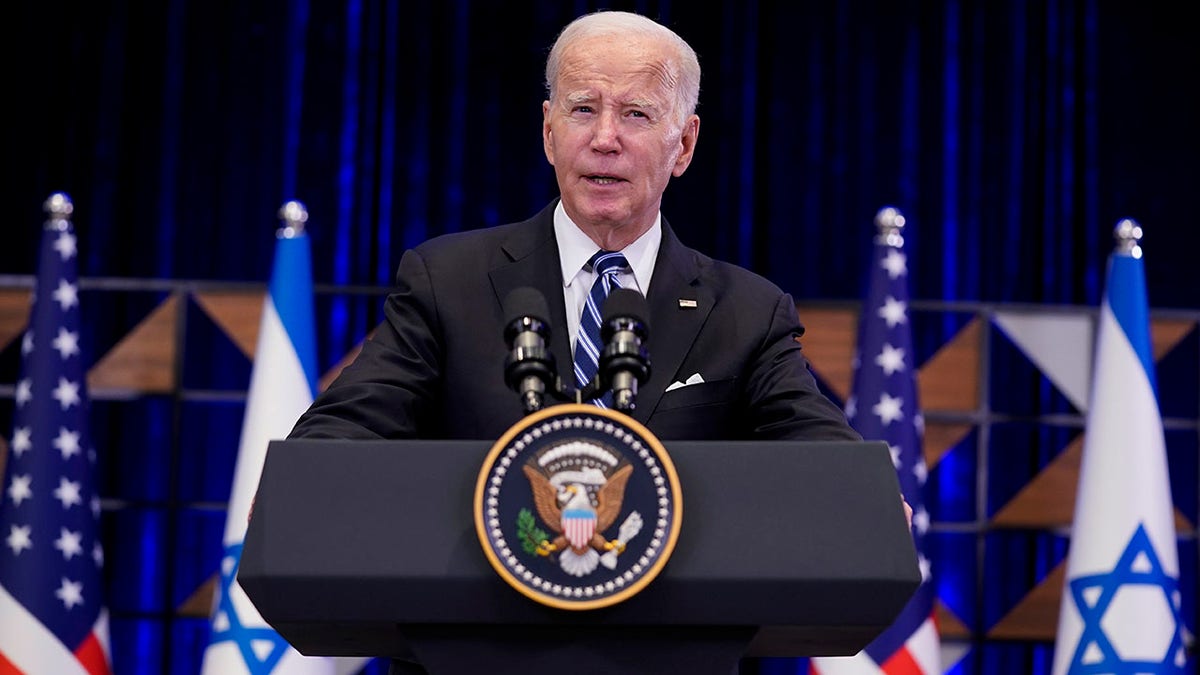 Biden also announced "$100 million in new U.S. funding for humanitarian assistance in both Gaza and the West Bank.
"This money will support more than 1 million displaced and conflict-affected Palestinians, including emergency needs in Gaza," he said.
Biden later said in his speech that the "Palestinian people are suffering greatly as well.
"We mourn the loss of innocent Palestinian lives like the entire world. I was outraged and saddened by the enormous loss of life yesterday in a hospital in Gaza. Based on the information we've seen today, it appears a result of an errant rocket fired by a terrorist group in Gaza," he said. "The United States unequivocally stands for the protection of civilian life during conflict. And I grieve I truly grieve for the families who were killed or wounded by this tragedy."
BIDEN SAYS ISRAEL NOT TO BLAME FOR GAZA HOSPITAL BLAST, CITES 'DATA SHOWN BY MY DEFENSE DEPARTMENT'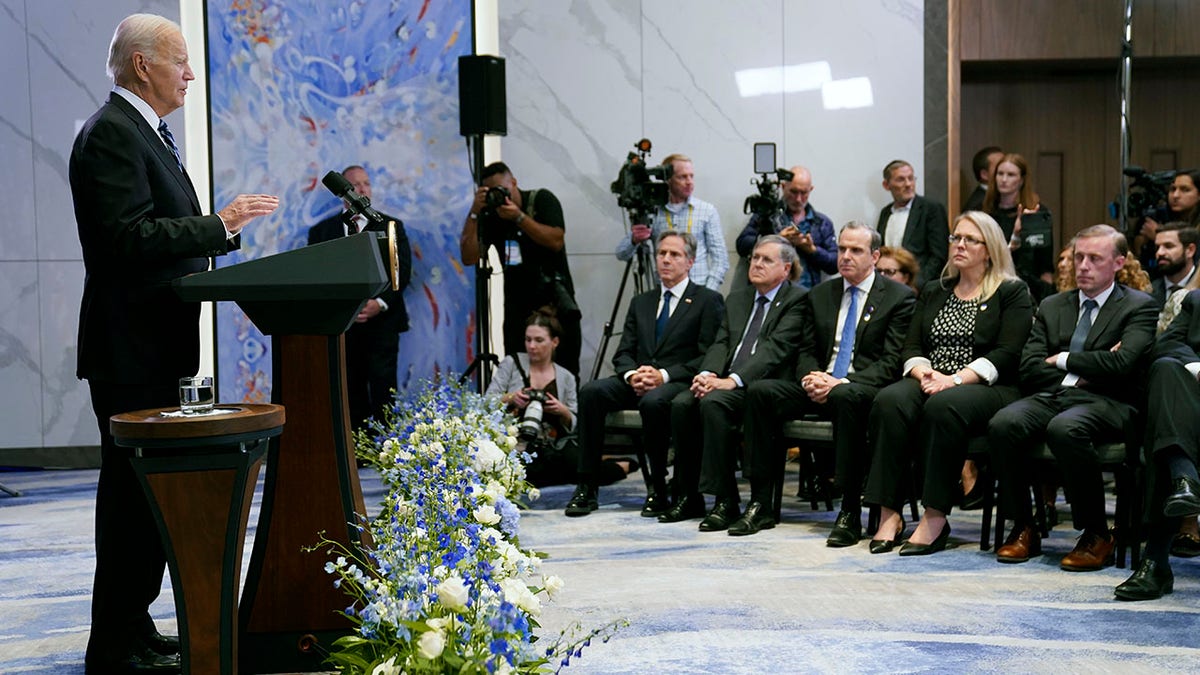 "The people of Gaza need food, water, medicine, shelter. Today, I asked the Israeli cabinet, who I met with for some time this morning, to agree to the delivery of lifesaving humanitarian assistance to civilians in Gaza based on the understanding that there will be inspections, that the aid should go to civilians, not to Hamas," Biden added.
Biden concluded his speech by saying "as hard as it is, we must keep pursuing peace, must keep pursuing that path so that Israel and the Palestinian people can both live safely and security in dignity, in peace.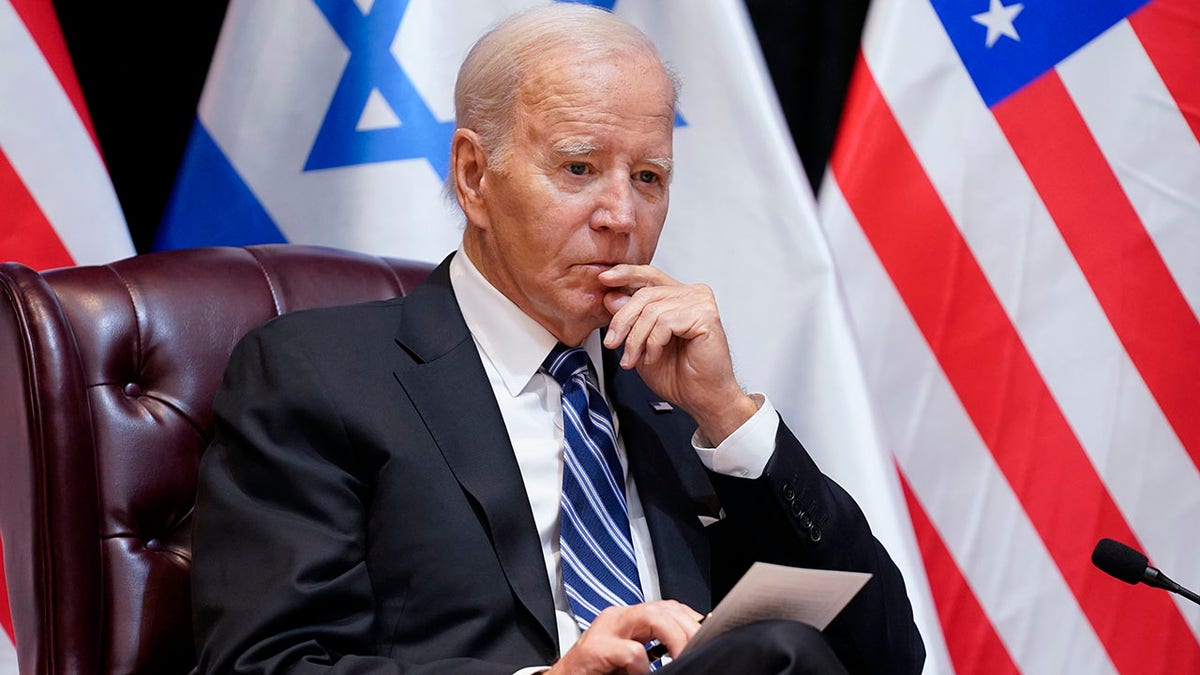 CLICK HERE TO GET THE FOX NEWS APP 
"For me, that means a two-state solution which keep working for Israel's greater integration with its neighbors," he said. "These attacks can only strengthen my commitment and determination and my will to get that done. I'm here to tell you the terrorists will not win. Freedom will win. So let me end where I began. Israel, you're not alone. The United States stands with you."