NEWYou can now listen to Fox News articles!
On Monday, mere hours after the most brutal attack on Israeli civilians in the nation's history, 31 student organizations on the campus of Harvard University issued a statement declaring Israel "entirely responsible" for Hamas's deadly assault on the Jewish state. 
And the students at Harvard were not alone; their views, we soon learned, were as pervasive as they were perverse on college campuses all throughout America. 
On Tuesday night, students at George Washington University, wearing masks to conceal their identities, gathered and laid praise at the feet of Hamas with one speaker chanting, "Glory to our martyrs, each and every one." He went on to say, "They call us savages, barbarians, terrorists, but we know who the real terrorists are."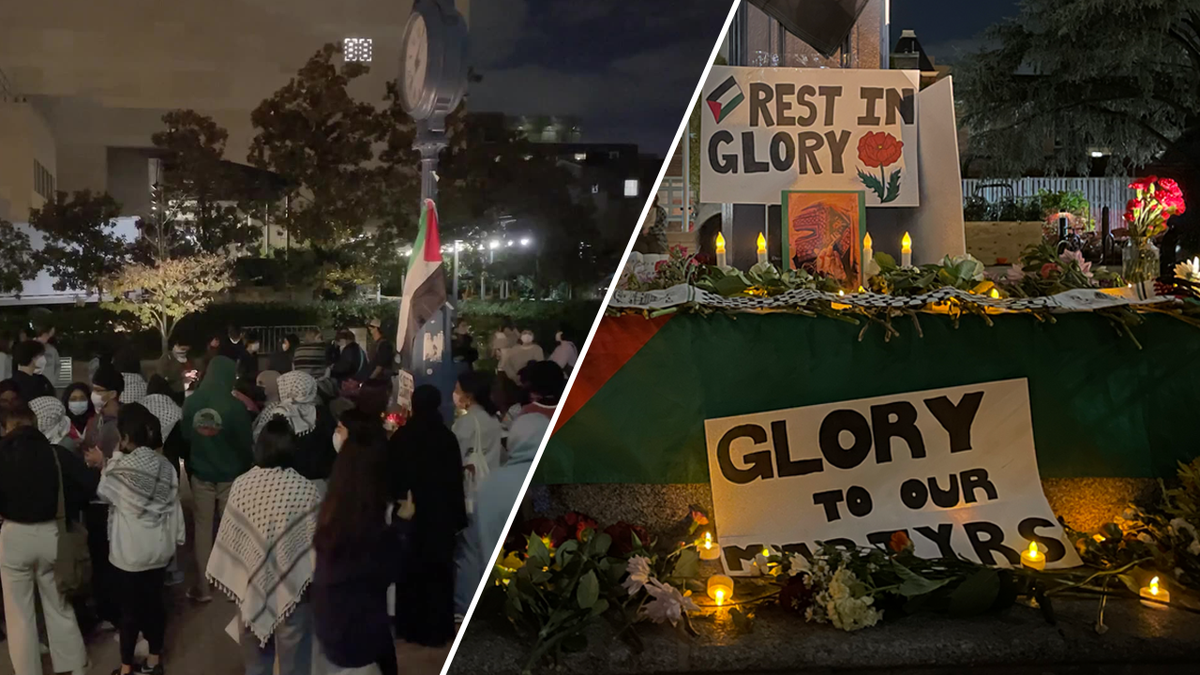 Stanford students hung bedsheets throughout campus with messages and slogans defending Hamas's attack on Israel, with one proclaiming that the "illusion of Israel is burning" with the Palestinian flag.
GOP HARVARD GRADUATES SEND SCATHING LETTER BLASTING SCHOOL'S RESPONSES TO PRO-HAMAS STUDENTS: 'ABHORRENT'
These students didn't just justify the attack. They celebrated it – an attack that has led to more than 1,000 declared dead, over 2,000 wounded, and reports of babies beheaded, young girls raped, and children – little boys and girls – kidnapped from their homes.
And it isn't just Israelis who have been impacted by this tragedy. On Wednesday, the State Department reported that 26 Americans have died at the hands of Hamas and 17 Americans, according to White House national security adviser Jake Sullivan, remain unaccounted for.
In the face of these facts, many were left aghast as to how so many young people who have grown up in a country so free, so inclusive and so progressive could side with the actions of a terrorist organization that is anything but. 
HUNDREDS OF HARVARD FACULTY SIGN LETTER REBUKING UNIVERSITY LEADERS' TEPID RESPONSE TO HAMAS 'WAR CRIMES'
I, however, wasn't surprised. Maybe it's because I left my college campus not long ago (being only 21 years old) or because I often report on the leftist indoctrination occurring in universities across America. 
The anti-American sentiment that exists on our college campuses today is well documented. If you want to learn how systemically racist America is, just drop by the Boston University Center for Antiracist Research led by Ibram X. Kendi, the author of "How To Be An Antiracist." This is the same Antiracism Center currently being investigated following complaints from staff members over leadership, company culture and mismanagement of funds. 
As leftism and rejection of truth, honesty and morality invade our universities, why should we be surprised that the same indoctrination that has led many college students to wrongfully hate America would also lead them to wrongfully hate the similar values of our closest ally in the Middle East? 
CLICK HERE FOR MORE FOX NEWS OPINION
How could so many young people who proudly identify as woke side with barbarians in pro-Palestinian territories where homosexuality is punishable by death, women's rights are a far cry from what they are in the Western world, and freedom of expression is damn near nonexistent? 
Within the question lies the answer: the dogma, or dare I say the religion, of woke. 
Too many of those in my generation have found themselves fixated on fighting the illusion of oppression instead of actual oppression. And in doing so, they choose to side with terrorists instead of friends. 
CLICK HERE TO GET THE FOX NEWS APP
They choose to side with terrorists who ban other religions, subjugate women and leave those suspected of homosexuality beheaded in the streets. They choose to side with brutalistic animals instead of innocents.
They choose, unwittingly but, oh, so wrongly, to become everything they claim to hate. 
CLICK HERE TO READ MORE FROM C.J. PEARSON