NEWYou can now listen to Fox News articles!
On Saturday, October 7, almost 1,500 Israelis were brutally massacred by the genocidal Hamas organization. They beheaded babies, burned people in their beds, raped and massacred peace festival partygoers, put children in cages and kidnapped the elderly and even Holocaust survivors.
Our son, Roey Weiser, only 21, and a dual American-Israeli citizen, is part of that unthinkable statistic.
Our son, like all Israeli youths, was conscripted into the army. On that fateful morning he was on his army base, guarding the Erez Crossing into Gaza. This is a place where food and other goods are regularly transported into Gaza, and where Gazans in the tens of thousands come and go to and from work in Israel or travel for medical care.
SENIOR HAMAS OFFICIAL ADMITS ISRAEL ATTACKS HAD BEEN PLANNED FOR YEARS UNDER GUISE OF GOVERNING GAZA
He wasn't on guard at the time but heard the shooting and leapt into action. Roey saw that his soldiers were being pinned down by hordes of Hamas terrorists, so out of nowhere, he came up with an ingenious but daring maneuver to outflank the terrorists.
Roey said to his soldiers, I am no longer your sergeant, whoever wants to come with me can.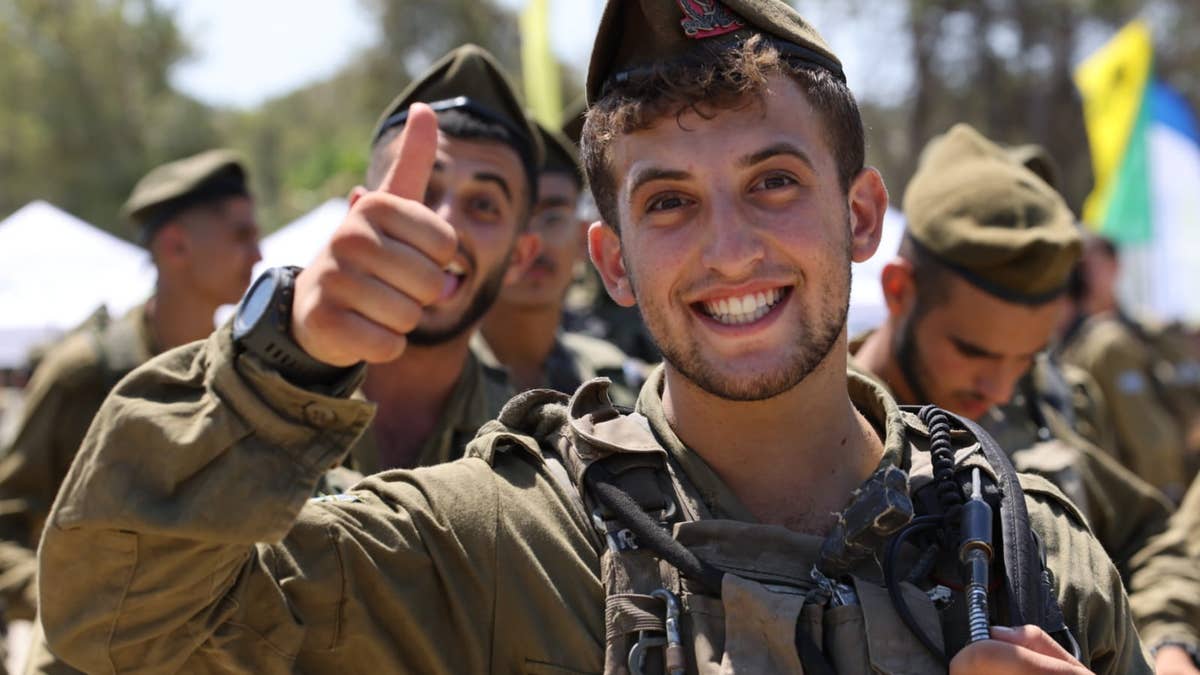 He went around the terrorists and together with a small handful of others, he engaged them from behind and stopped their attack. Unfortunately, in the battle he was mortally wounded.
We heard about his amazing bravery from the many soldiers whose lives he saved. There are around 12 soldiers who are alive today because of his heroism. Theirs was the only base not taken by Hamas on that Saturday attack because of his actions.
Like many other Israelis, we have paid the ultimate price.
BLINKEN, IN ISRAEL, SAYS MORE AMERICANS KILLED, VOWS SOLIDARITY 'ALWAYS'
The international community has now seen what Hamas is, eyes around the world have now been opened to a terrorist organization that has no goals except destruction, pain and bloodshed. 
Hamas is not interested in peace, neither in accommodation nor compromise.
Hamas leaders have openly admitted that they accepted many recent Israeli concessions and assistance to lull us into the feeling that if we give them a better life, they will not seek war and butchery.
We were all so wrong.
Their hate for us is too strong. Like ISIS, Hamas delights in death, misery and suffering.
So, now, unfortunately, we have to face this fight.
It was not a war of our choosing, but Israel must be allowed to decide when and how it ends.
We will soon send our young soldiers into Gaza to fight face to face, simply because we do not want to kill innocent civilians by simply bombing from the air.
US ARRANGING EVACUATION FLIGHTS FROM ISRAEL STARTING FRIDAY, KIRBY SAYS
Thankfully, like our son Roey, our soldiers are extremely motivated and highly trained.
The number of casualties will rise.
Our gruesome enemies, who bask in the deaths of our people, also delight in the deaths of their own people, because they will use them to gain international sympathy and to try and cast aspersions against the Jewish State.
I hope the international community will understand what we have to do to defend ourselves, remain supportive and encourage us to defeat Hamas.
CLICK HERE FOR MORE FOX NEWS OPINION
There is no alternative to victory over Hamas. Anything short of its destruction will merely pave the way for future wars and prolong the conflict, meaning more suffering and bloodshed on all sides.
We are extremely grateful for the support of the United States, from President Biden and from both sides of Congress and the American people.
We were both born in the U.S. and are dual American and Israeli citizens. While we live in Israel we travel frequently to the U.S. We know well how our people's futures are intertwined. Our values are your values, our thirst for freedom and security matches yours. 
Those who hate Americans also hate Israelis, and vice versa.
Israel helped the U.S. and its allies defeat ISIS. I hope the U.S. will now return the favor.
Our future and existence are dependent on it. If Israel does not defeat Hamas, our other, far greater enemies in Tehran, Beirut and elsewhere, will perceive Israel as weak and could potentially launch an all-out war of annihilation.
Hezbollah is already itching to enter into the conflict.
CLICK HERE TO GET THE FOX NEWS APP
The Ayatollahs in Iran are constantly predicting the date of the Jewish people's demise and actively acquiring the means to ensure it.
If Israel is allowed to win, we can hope and pray that this is the last war, there can be peace and security, and people like Roey will not have to die defending his country and people in the future.
Naomi and Yisrael Weiser are dual American and Israeli citizens who reside in Israel. Their son, Roey, lost his life on October 7 while defending Israel against Hamas terrorists.