Members of the far-left "Squad" are getting a pass from Democratic Party leadership in Congress over what the Biden administration described Tuesday as a "disgraceful" response to the atrocities committed against Israel by Hamas over the weekend, including the execution of children.
Fox News Digital asked House Minority Leader Hakeem Jeffries, D-N.Y., and Senate Majority Leader Chuck Schumer, D-N.Y., to go on the record with their views concerning the comments made by Rep. Ilhan Omar, D-Minn.; Rep. Rashida Tlaib, D-Mich.; Rep. Alexandria Ocasio-Cortez, D-N.Y.; and Rep. Cori Bush, D-Mo., in the wake of the brutal attacks. Neither would offer a direct response.
Jeffries' office did not respond to Fox at all, while Schumer's office pointed to a statement he released over the weekend condemning a pro-Hamas demonstration in Times Square following the attacks. Fox pressed Schumer's office to respond directly to the statements by the "Squad' but did not receive another response.
WHITE HOUSE ROASTS 'SQUAD' DEMOCRATS FOR 'REPUGNANT' COMMENTS AFTER BRUTAL HAMAS MURDERS: 'DISGRACEFUL'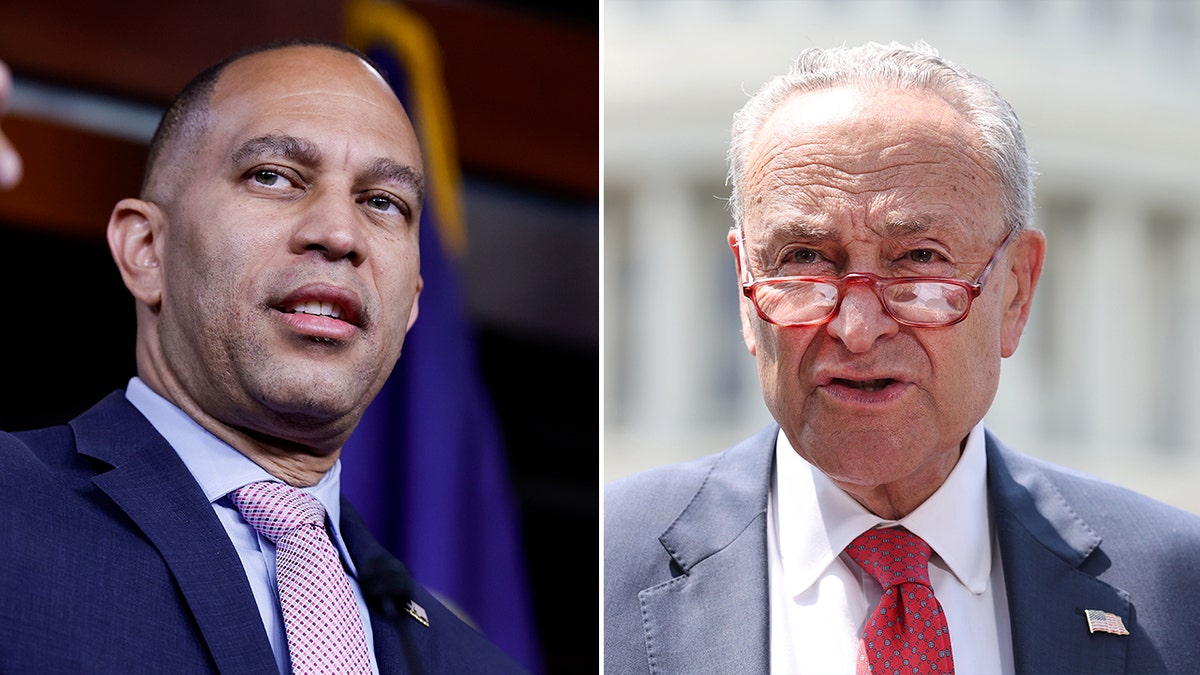 In their statements after the outbreak of war between Israel and Hamas over the weekend, Tlaib and Bush ignited outrage when they called for U.S. assistance to Israel to end.
"I grieve the Palestinian and Israeli lives lost yesterday, today, and every day," Tlaib's statement said. "As long as our country provides billions in unconditional funding to support the apartheid government, this heartbreaking cycle of violence will continue."
BIDEN SHUNS CALLS TO DE-ESCALATE, VOWS US 'HAS ISRAEL'S BACK' AS IT PREPARES FOR GROUND WAR WITH HAMAS
Bush's statement said, "As part of achieving a just and lasting peace, we must do our part to stop this violence and trauma by ending U.S. government support for Israeli military occupation and apartheid."
Ocasio-Cortez and Omar both called for a "ceasefire" between Israel and Hamas Saturday, the day of the attacks that saw hundreds of Israelis and many from other countries slaughtered, including women, children and babies.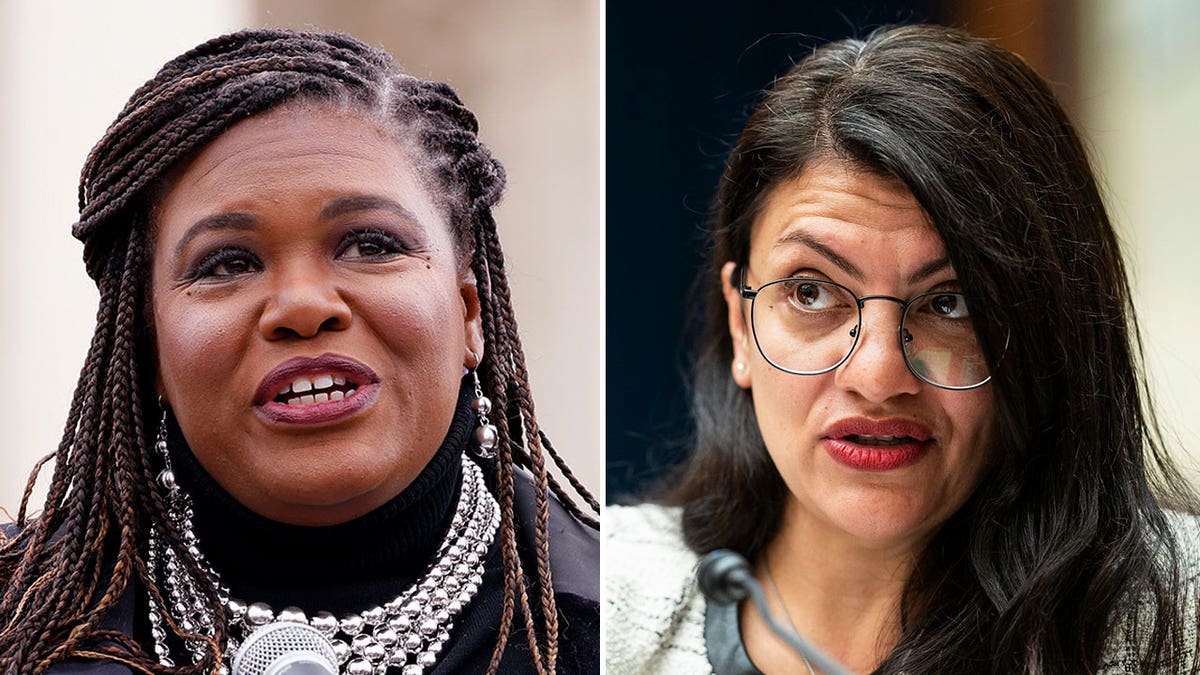 Following backlash for the "ceasefire" calls, Ocasio-Cortez took aim at the same Times Square demonstration condemned by Schumer, calling the "bigotry and callousness" expressed at the event "unacceptable and harmful."
In her own social media thread Monday following the backlash, Omar seemed to equate the Israeli victims killed by Hamas terrorists this weekend and Palestinians killed in the ongoing Israeli response.
GOP LAWMAKER SEEKS CURB ON NON-US FLAGS IN CONGRESS AFTER TLAIB OFFICE PICTURED WITH PALESTINIAN BANNER
On Wednesday, Tlaib was repeatedly pressed by Fox Business for a response to the decapitations of Israeli babies and other atrocities committed by Hamas militants but ignored the questions.
According to the Michigan Advance, a left-leaning outlet, Tlaib said Wednesday she does not "support targeting and killing of civilians, whether in Israel or Palestine" and added that suggestions otherwise were "offensive and rooted in bigoted assumptions about my faith and ethnicity."
White House press secretary Karine Jean-Pierre turned up the heat on the "Squad" during Tuesday's press briefing, blasting their comments on the war between Israel and Hamas as "wrong," "repugnant" and "disgraceful."
"I've seen some of those statements this weekend, and we're going to continue to be very clear. We believe they're wrong, we believe they're repugnant and we believe they're disgraceful," Jean-Pierre said.
CLICK HERE TO GET THE FOX NEWS APP
"Our condemnation belongs squarely with terrorists who have brutally murdered, raped, kidnapped hundreds, hundreds of Israelis. There can be no equivocation about that. There are not two sides here. There are not two sides," she added.
Fox reached out to the offices of Omar, Tlaib, Ocasio-Cortez and Bush for comment on the White House's condemnation of their reactions to the Hamas attacks but did not receive responses.
Fox News' Houston Keene and Anders Hagstrom contributed to this report.